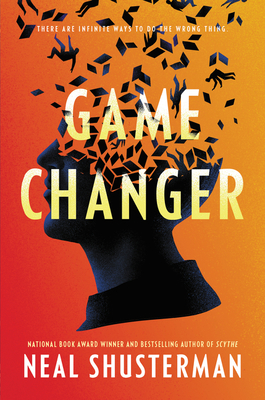 Game Changer
Publication Date:
February 9th, 2021
Publisher:
Quill Tree Books
Usually Ships in 1 to 5 Days
Readers who were obsessed with the Scythe series will not be disappointed by Game Changer. Ash is a high school football player who is oblivious to the world around him until he takes a big hit on the field. He enters another dimension where everything is off, from the school mascot to how his friends are treated. If you loved Scythe because of the way it took you into another world with powerful messages, you will be sure to enjoy this.
Spring 2021 Kids Indie Next List
Description
"A timely, speculative thought experiment in perspective, privilege, and identity." —Kirkus
"The conceit behind Shusterman's latest is truly unique. While it exhibits the author's usual storytelling aplomb, it also manages to delve into more serious and timely subject matter, such as racism, sexism, and homophobia. Despite these heavy topics, the story still moves at a lively pace and, thanks to a zany sci-fi twist, manages to pack in a few laughs as well." —Booklist
All it takes is one hit on the football field, and suddenly Ash's life doesn't look quite the way he remembers it.
Impossible though it seems, he's been hit into another dimension—and keeps on bouncing through worlds that are almost-but-not-really his own.
The changes start small, but they quickly spiral out of control as Ash slides into universes where he has everything he's ever wanted, universes where society is stuck in the past…universes where he finds himself looking at life through entirely different eyes.
And if he isn't careful, the world he's learning to see more clearly could blink out of existence…
This high-concept novel from the National Book Award-winning and New York Times-bestselling author of the Arc of a Scythe series tackles the most urgent themes of our time, making this a must-buy for readers who are starting to ask big questions about their own role in the universe.
Praise for Game Changer
"National Book Award winner Neal Shusterman's Game Changer is a brilliantly mind-bending YA work of speculative fiction...Shusterman fictionalizes these big issues while simultaneously making connections to our own reality, prompting readers to question how their own biases and privilege might distort their perception of the world. Game Changer is a book with a sense of humor and an existential bent that is overflowing with biting social commentary and aphoristic wisdom. Easy to read, with perspective-altering drama, this novel is on track to become the go-to contemporary fable for this generation of readers." — Shelf Awareness (starred review)
"A timely, speculative thought experiment in perspective, privilege, and identity." — Kirkus Reviews
"The conceit behind Shusterman's latest is truly unique. While it exhibits the author's usual storytelling aplomb, it also manages to delve into more serious and timely subject matter, such as racism, sexism, and homophobia. Despite these heavy topics, the story still moves at a lively pace and, thanks to a zany sci-fi twist, manages to pack in a few laughs as well." — Booklist
"A straight, white, cisgender teen is confronted with his own privilege via iterative realities in Printz Honoree Shusterman's (Scythe) ambitious speculative novel." — Publishers Weekly
"Shusterman has an eye for clever concepts and a masterful control of pace."  — Bulletin of the Center for Children's Books
"It's a testament to Shusterman's storytelling powers that he is able to develop a cohesive narrative across these multiple shifts, exploring the subtle nuances of how they affect not only Ash but the entire supporting cast." — Horn Book Magazine