Staff Pick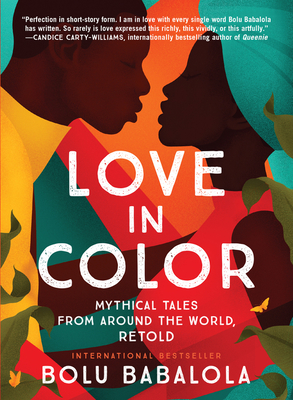 Love in Color: Mythical Tales from Around the World, Retold
Publication Date:
April 13th, 2021
Publisher:
William Morrow
Staff Reviews
Bolu Babalola's prose had me enraptured from the very first page! The artful way that she rewove and spun myths from around the world was absolutely masterful, and I enjoyed reading fresh takes on stories that I knew, while also having the opportunity to encounter stories that I wasn't familiar with at all. LOVE IN COLOR is for anyone who is constantly in awe of the power of love, and also for anyone who may need to be reminded of it.
— Lucy
Description
INTERNATIONAL BESTSELLER
"Love stories by and about marginalized women . . . The heroines are strong and sure . . . Babalola's writing shines." — New York Times Book Review
"Absolutely intoxicating." — Casey McQuiston, New York Times bestselling author of Red, White, and Royal Blue and One Last Stop
A vibrant debut collection of love stories from the bestselling author of Honey and Spice, retelling myths, folktales, and histories from around the world.
A high-born Nigerian goddess, who has been beaten down and unappreciated by her gregarious lover, longs to be truly seen. A young businesswoman attempts a great leap in her company, and an even greater one in her love life. A powerful Ghanaian spokeswoman is forced to decide whether she should uphold her family's politics or be true to her heart.
In her debut collection, internationally acclaimed writer Bolu Babalola retells the most beautiful love stories from history and mythology with incredible new detail and vivacity. Focusing on the magical folktales of West Africa, Babalola also reimagines Greek myths, ancient legends from the Middle East, and stories from long-erased places.
With an eye towards decolonizing tropes inherent in our favorite tales of love, Babalola has created captivating stories that traverse across perspectives, continents, and genres. Love in Color is a celebration of romance in all its many splendid forms.
"I am in love with every single word Bolu Babalola has written. So rarely is love expressed this richly, this vividly, or this artfully." —Candice Carty-Williams, international bestselling author of Queenie
Praise for Love in Color: Mythical Tales from Around the World, Retold
"In telling these stories, Babalola herself becomes the seer and the seen, subversively providing a corrective to both the Western idea of who gets to indulge in love for love's sake and whose myths are worthy of retelling... Babalola's writing shines whether she's writing parry-riposte banter or fresh, evocative interiority; each story will likely find readers who choose it as their personal favorite in the book. Love in Color, as a whole, is a strong and necessary reset of who is the seer, who is the seen, and who gets to do both." — New York Times Book Review
"Beautifully written and full of joy. Bolu Babalola is a star." — Meg Cabot, #1 New York Times bestselling author
"Absolutely intoxicating." — Casey McQuiston, New York Times bestselling author of Red, White, and Royal Blue and One Last Stop
"Bolu Babalola's decolonized retelling of love stories and myths from around the world is a best seller for a reason: We're all romantics at heart." — New York magazine, The Strategist
"Bolu Babalola splashes onto the scene with her fantastic debut collection… Magnificent… These stories are short, they're perfect for the beach." — Isaac Fitzgerald, Today Show
"Luscious… Come for the beautiful and achingly relevant narratives centered around dynamic women… stay for the reminder that the happiest ever after is falling in love with yourself." — Essence
"A thrillingly gifted Nigerian-British author recasts literary legends... Babalola dives deep into the notion that "romance sweetens the casual bitterness we can encounter; it heightens the mundane and makes the terrestrial supernatural." — Oprah Daily
"Good love stories are irresistible: They appear in almost every genre and culture, and are the subject of centuries of lore. Love in Color, the British Nigerian writer Bolu Babalola's collection retelling myths from around the world, demonstrated just this last year. These stories persist because they carry healing and hope. Everyone can use the vicarious drama and swooping emotion a truly great romance brings, especially in these dark days." — The Atlantic
"Inventive, intimate, witty and wise, Babalola's irresistible explorations uplift you from the start. Here is love as freedom, love as deep joy. Romance will never be dead, as long as she's writing it." — Jessie Burton, New York Times bestselling author of The Muse    
"Perfection in short story form, I am in love with every single word Bolu Babalola has written. So rarely is love expressed this richly, this vividly, or this artfully."   — Candice Carty-Williams, international bestselling author of Queenie
"British cultural critic Bolu Babalola's delightful fiction debut is a work of power and pleasure. Drawing largely from African and Asian folklore — featuring Thisbe, Scheherazade, Ọ?un, Nefertiti, and more — Babalola crafts entirely modern love stories without any of the mistreatment of women that pervades so much mythology. The collection also includes three original stories from Babalola, all of which are more than deserving of their place next to the classics. As Babalola herself describes it, the book is 'a step towards decolonizing tropes of love.' It's also a lot of fun." — Buzzfeed
"Folklore enthusiasts and romcom fans alike will fall hard for Love in Color...Beautifully realized by Babalola, each retelling breathes contemporary imagination into cherished stories, making for luscious tales of loneliness, longing, and love." — Esquire
"These vibrant stories navigate the most complex human emotion and try to understand why it holds us hostage, while decolonizing tropes by forming new stories that already exist in so many cultures and communities around the world." — Refinery 29
"Oh but Bolu Babalola is clever...she finds the perfect new twist for every story that you think you know. Her collection of reimagined fairytales and classic stories is a true delight." — Dorothy Koomson, international bestselling author
"Richly imaginative, unashamedly romantic and a total pleasure to read. I didn't want it to end." — Alexandra Sheppard, author of Oh My Gods
"Lovely… The result is effortlessly readable, and the chemistry between characters and the focus on Black female empowerment will surely win over many romance fans."  — Publishers Weekly
"British Nigerian writer Babalola combines wit and wisdom in this collection of reimagined, mythical love stories... This wondrous celebration tackles the emotional complexities inherent in passion, adding depth and shadows without resorting to cynicism... This is a joyous read for those interested in literary reworkings and for those looking to explore the complications of loving relationships from fresh perspectives."  — Booklist
"Full of life and character, it's such a pleasure to take this ride through history, geography, legend and lore in the company of a writer as witty and intelligent as Bolu. Her romantic sensibility is second to none." — Bethany Rutter, author of No Big Deal