Staff Pick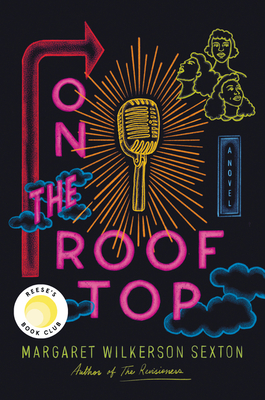 On the Rooftop: A Reese's Book Club Pick
Publication Date:
September 6th, 2022
Usually Ships in 1 to 5 Days
Staff Reviews
Vivian tries to live her dream of becoming a star through her three daughters, who've become a local sensation as a singing trio. She's spent years training them vigorously on the roof top of her home and booking performances at nearby venues, when one day she gets a promising offer that could change their lives. But the girls have dreams of their own, and one by one each unfolds, threatening the vision Vivian has built for them all. At the same time, and the neighborhood is about to change as developers descend on Vivian's community to buy up homes and business properties. Set in 1950's San Francisco, I enjoyed this family drama and each member's search for individual fulfillment, in the midst of their collective struggle to keep their community together. Intimate, emotional – a pleasure to read!
— Cathy
Description
A Reese's Book Club Pick
"An utterly original and brilliant story." –Reese Witherspoon
A stunning novel about a mother whose dream of musical stardom for her three daughters collides with the daughters' ambitions for their own lives—set against the backdrop of gentrifying 1950s San Francisco
At home they are just sisters, but on stage, they are The Salvations. Ruth, Esther, and Chloe have been singing and dancing in harmony since they could speak. Thanks to the rigorous direction of their mother, Vivian, they've become a bona fide girl group whose shows are the talk of the Jazz-era Fillmore.
Now Vivian has scored a once-in-a-lifetime offer from a talent manager, who promises to catapult The Salvations into the national spotlight. Vivian knows this is the big break she's been praying for. But sometime between the hours of rehearsal on their rooftop and the weekly gigs at the Champagne Supper Club, the girls have become women, women with dreams that their mother cannot imagine.
The neighborhood is changing, too: all around the Fillmore, white men in suits are approaching Black property owners with offers. One sister finds herself called to fight back, one falls into the comfort of an old relationship, another yearns to make her own voice heard. And Vivian, who has always maintained control, will have to confront the parts of her life that threaten to splinter: the community, The Salvations, and even her family.
Warm, gripping, and wise, with echoes of Fiddler on the Roof, Margaret Wilkerson Sexton's latest novel is a moving family portrait from "a writer of uncommon nerve and talent" (New York Times Book Review).
Praise for On the Rooftop: A Reese's Book Club Pick
"What happens when a mother's well-intentioned aspirations for her offspring conflict with her daughter's ever-changing vision of herself? In Margaret Wilkerson Sexton's showstopper of a third novel, On the Rooftop, this theme is explored with compassion, clear-eyed perception and been-around-the-block delivery. And when placed within the context of racial segregation and prejudice in midcentury America, the results are soul-shaking…. A powerhouse novel." — San Francisco Chronicle
"On the Rooftop explores a subject close to my heart: the shifting terrain between mothers and daughters, further complicated by grief. Margaret Wilkerson Sexton's powerful prose takes us to some familiar emotional places within an utterly original story. This searing, intimate portrait of family, ambition, and community from a bygone era feels deeply resonant for those of us still daring to dream today. Beautiful, moving, and truly unforgettable!" — Deesha Philyaw, author of The Secret Lives of Church Ladies
"[On the Rooftop] beautifully captures the complicated emotions that arise when a parent realizes that what she wants for her kids doesn't necessarily align with what they need." — Time
"An utterly original and brilliant story." — Reese Witherspoon
"A powerful drama set during a pivotal moment in U.S. history." — Real Simple
"I was not prepared for how this book would knock me over with its rich characterizations and intricate plot that handles major social issues such as racism and gentrification while telling an intimate story of a family in transition…this novel is written tenderly with language that sings as much as the music it describes. When faced with enormous change, these finely drawn characters face the universal struggle of whether to accept what life has thrown at them or to resist change and lose everything they've worked so hard to achieve. I couldn't put it down." — BuzzFeed 
"Irresistible." — Los Angeles Times
"An expansive, big-hearted work of historical fiction about family, love and what happens when children grow up to chase dreams their parents never imagined for them." — Good Housekeeping
"Sprightly, emotionally savvy…. As much as this is a story about the lives of Vivian and her daughters, it's also a story about community—how groups serve as sources of support and liberation, too."  — Alta Journal
"On the Rooftop further cements Margaret Wilkerson Sexton as a deft chronicler of Blackness in America. A deeply felt, big hearted exploration of family, sisterhood and gentrification, this is the kind of expansive, lush novel that envelops with charm while provoking with its fierce intelligence." — Kaitlyn Greenidge, author of Libertie
"A masterful examination of family and community that celebrates the legacy of Black dreams and determination…. Sexton's work entertains and inspires at the same time, and with On the Rooftop, she urges us to find comfort in the triumphs of our past." — BookPage
"Richly observed and beautifully written, On the Rooftop weaves the lives of its characters together into a story bursting with music and feeling. Margaret Wilkerson Sexton writes with power and nuance about matters of the spirit and the flesh. A moving, uplifting novel about art and ambition and faith and love." — Charles Yu, author of Interior Chinatown
"In all of her work, Margaret Wilkerson Sexton invites us into the most intimate spaces of remarkable families during remarkable times. In this stellar novel, she takes us deeply into the dynamics of mothers and daughters, their individual—and collective—dreams and struggles. The harmonies of The Salvations are the literal soul music of this neighborhood in San Francisco during the turbulent '50s and I will never look up at another rooftop again, without imagining three sisters reaching for their stars."  — Luis Alberto Urrea, author of The House of Broken Angels
"Sexton does a wonderful job of capturing the complicated love that binds Vivian and her daughters. She also beautifully depicts the jealousies and rivalries that can tear once-close sisters apart. . . . A heartfelt tale of family and community." — Kirkus Reviews
"Outstanding… Sexton creates the place and era, with its sights, tastes and sounds, and writes the feelings and thoughts the four women have versus their behavior with brilliant insight and perfect pitch." — Historical Novel Society