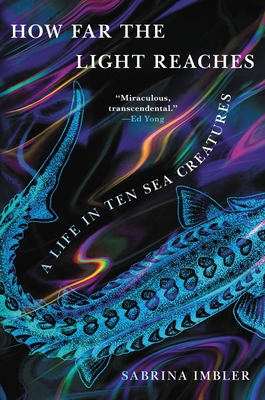 How Far the Light Reaches: A Life in Ten Sea Creatures
Publication Date:
December 6th, 2022
Publisher:
Little, Brown and Company
Usually Ships in 1 to 5 Days
The only thing more impressive than Imbler's marine knowledge is their knowledge of themselves. Searching the ocean for new ways of being, they describe personal, familial, and communal trauma with astonishing honesty and lyricism.
December 2022 Indie Next List
Description
A fascinating tour of creatures from the surface to the deepest ocean floor: this "miraculous, transcendental book" invites us to envision wilder, grander, and more abundant possibilities for the way we live (Ed Yong, author of An Immense World).
A queer, mixed race writer working in a largely white, male field, science and conservation journalist Sabrina Imbler has always been drawn to the mystery of life in the sea, and particularly to creatures living in hostile or remote environments. Each essay in their debut collection profiles one such creature, including:
   ·the mother octopus who starves herself while watching over her eggs,
   ·the Chinese sturgeon whose migration route has been decimated by pollution and dams,
   ·the bizarre, predatory Bobbitt worm (named after Lorena),
   ·the common goldfish that flourishes in the wild,
   ·and more.
Imbler discovers that some of the most radical models of family, community, and care can be found in the sea, from gelatinous chains that are both individual organisms and colonies of clones to deep-sea crabs that have no need for the sun, nourished instead by the chemicals and heat throbbing from the core of the Earth. Exploring themes of adaptation, survival, sexuality, and care, and weaving the wonders of marine biology with stories of their own family, relationships, and coming of age, How Far the Light Reaches is a shimmering, otherworldly debut that attunes us to new visions of our world and its miracles.  
WINNER OF THE LOS ANGELES TIMES BOOK PRIZE in SCIENCE & TECHNOLOGY
Finalist for the Lambda Literary Award One of TIME's 10 Best Nonfiction Books of the Year •  A PEOPLE Best New Book  •  A Barnes & Noble and SHELF AWARENESS Best Book of 2022  •  An Indie Next Pick  •  One of Winter's Most Eagerly Anticipated Books: VANITY FAIR, VULTURE, BOOKRIOT
Praise for How Far the Light Reaches: A Life in Ten Sea Creatures
A TIME Best Nonfiction Book of the 2022
A PEOPLE Best New Book
A Barnes & Noble, WIRED, and SHELF AWARENESS Best Book of 2022
An Indie Next Pick
One of Winter's Most Eagerly Anticipated Books: NEW YORK TIMES, VANITY FAIR, VULTURE, BOOKRIOT
"Compulsively readable, beautifully lyric, and wildly tender, How Far the Light Reaches asks the reader to sink down, slip beneath, swim forward with outstretched hands, trusting that Sabrina Imbler is there to guide us through the dark. It presents the body as one that might morph and grow in any number of directions. How do we see ourselves? Can we learn to unsee? A breathtaking, mesmerizing debut from a tremendous talent."—KRISTEN ARNETT, NYT bestselling author of With Teeth
"This is a miraculous, transcendental book. Across these essays, Imbler has choreographed a dance of metaphor between the wonders of the ocean's creatures and the poignancy of human experience, each enriching the other in surprising and profound ways. To write with such grace, skill, and wisdom would be impressive enough; to have done so in their first major work is truly breathtaking. Sabrina Imbler is a generational talent, and this book is a gift to us all."—ED YONG, New York Times Bestselling author of An Immense World
"How Far the Light Reaches marks the arrival of a phenomenal writer creating an intellectual channel entirely their own, within which whales and feral goldfish swim by the enchantment, ache, and ecstasy of human life."—MEGHA MAJUMDAR, New York Times bestselling author of A Burning
"How Far the Light Reaches draws startling, moving connections between the lives of sea creatures and our existence on solid ground; between the vast depths of the ocean and the similarly mysterious expanse of inner experience. Working at the nexus of nature writing and memoir, Sabrina Imbler is beautifully reinventing both genres."
 —ANGELA CHEN, author of Ace
"How Far the Light Reaches is a creature unlike any other—one that grips you with its tentacles and pulls you down into new depths. It is impossible to read this book and not be transformed."—RACHEL E. GROSS, author of Vagina Obscura
"A pinwheel of awe spinning one 'wow' after another."—SOUVANKHAM THAMMAVONGSA, author of How to Pronounce Knife
"Sabrina Imbler's glittering prose is as supple as an octopus, and their subject matter—whether writing about sea creatures or their own shape-shifting soul—as elemental as the ocean itself. And like the sea, How Far the Light Reaches is profound, surprising, and thrillingly strange. I love it."—SY MONTGOMERY, New York Times bestselling author of How To be A Good Creature: A Memoir in 13 Animals and The Soul of an Octopus
"How Far the Light Reaches is a bright, shimmering gift of a book that deftly glides and weaves, exploring sea life and the self with boundless curiosity, tenderness, and wisdom. Sabrina Imbler can break your heart while opening it to new wonders—their writing is as precise as it is lyrical, and will not leave you unchanged. Every essay in this brilliant debut collection deserves to be treasured."—NICOLE CHUNG, author of All You Can Ever Know
"How Far The Light Reaches is an incandescent and provocative exploration of worlds we often do not see, rendered with the utmost tenderness and care. Deftly merging reporting and memoir, Sabrina Imbler forges connections between our imperfect human lives and the depths of the ocean, providing a new framework that will forever change how we understand the world around us."
—KAT CHOW, author of Seeing Ghosts
"In this captivating debut, science writer Imbler shines a light on the mysterious sea creatures that live in Earth's most inhospitable reaches, drawing parallels to their own experience of adaptation and survival...Imbler's ability to balance illuminating science journalism with candid personal revelation is impressive, and the mesmerizing glints of lyricism are a treat. This intimate deep dive will leave readers eager to see where Imbler goes next."—Publishers Weekly
"Imbler pulls off an impressive feat: a book about the majestic, bewildering undersea world that also happens to be deeply human."—Lisa Wong Macabasco, VOGUE, Best Books of Fall
"Imbler blends personal history with the most fascinating writing on sea creatures living in remote and deep areas of the ocean. Metaphors abound around family, community, queerness, and survival; this book is another jewel in the crown of Imbler's incredible work."—Sarah Neilson, THEM, Most Anticipated LGBTQ+ Books for Fall
"A luminous interweaving of the human and the non-human, My Life in Sea Creatures is an ingenious book that shows, with a glittering skill, how the precious life around us enriches our world and our ways of living. This is nature writing with an open and daring heart."—SEÁN HEWITT, poet and author of All Down Darkness Wide.
"…much more than an account of deep-sea creatures…Imbler compellingly examines the parallels between the lives and priorities of people and aquatic animals…unique and engaging…the overall effect is heartening and encourages a reexamination of inherited ideas about family, community, and identity…Elegant, thought-provoking comparisons between aspects of identity and the trials of deep-sea creatures."—Kirkus Reviews
"A tender, lucid look at the author's life refracted through the deep sea. Imbler's essays' mesmerizing descriptions of the often mysterious lives of aquatic animals also serve as portals of inquiry into their life on land. The purple octopus's maternal sacrifice, the yeti crab's vibrant but transient seafloor communities and the cuttlefish's continual transformations are not forced anthropomorphic metaphors but starting points for a visceral exploration of Imbler's family, sexuality, gender, race and relationships. These graceful cross-species analyses illuminate the joys and responsibilities we have as 'creatures with a complex brain."—Dana Dunham, SCIENTIFIC AMERICAN
"How Far the Light Reaches is a truly unique collection of essays about ocean life as it pertains to the author's own story."—Ashley Holstrom, BOOK RIOT
"Imbler's insightful blend of marine biology and memoir is utterly captivating and complexly elucidating."—Donna Seaman, BOOKLIST
"What would happen if art, whose main purpose is to make us feel, again merged with science?...with brutal candor and elegant metaphor, How Far the Light Reaches reveals the gap between where we are today and a truly inclusive and connected world. In so doing, [the book] also threads the loophole, weaving the outlines of a future where art and science amplify one other."—Juli Berwald, SCIENCE MAGAZINE
"The minute I saw Sabrina Imbler's byline, I was hooked."—Maya Homan, THE BOSTON GLOBE
"In gorgeous, lyrical prose, science journalist Sabrina Imbler interweaves fascinating research on sea creatures with their own deeply personal evolution as a queer mixed-race person struggling with assimilation, gender identity, family dynamics and where they fit within a largely homogenous society."—GOOD HOUSEKEEPING
"Imbler, a science journalist, shines a light on some of the ocean's most delightful and overlooked creatures: goldfish that flourish in the wild, an aquatic worm named after Lorena Bobbitt, octopus mothers that make sacrifices for their offspring. Along the way, the author draws connections between these fascinating animals and our own needs and desires — for safety, family and more."
 —Joumana Khatib, NEW YORK TIMES, Most Anticipated Books of December
"I found both solace and hope in Imbler's ability to portray a world so foreign it's barely legible to humans, and to bring forth the myriad ways of being that we might draw on to imagine our way forward through the depths."—Ilana Masad, WASHINGTON POST
"Imbler thoughtfully examines connections between science and humanity, tying together what should be very loose threads in 10 dazzling essays, each a study of a different sea creature…Throughout, Imbler reveals the surprising ways that sea creatures can teach us about family, sexuality, and survival."—Annabel Gutterman, TIME, 10 Best Nonfiction Books of the Year
"Imbler uses their fascination with deep sea creatures to enlighten readers about these mysterious crabs, worms, fish and other organisms but also to encourage us to radically reimagine our own families, ways and lives."—Karla J. Strand, MS. MAGAZINE
"[The book] meditates radiantly on the ragged ways we adapt to the world around us, probing the lives of marine animals for strategies for our own survival. Imbler's first-rate science writing glistens with the same sheen as the best of Oliver Sacks' essays."—Henry L. Carrigan, Jr., BOOKPAGE, Starred Review
"Tender and candid...a poignant invitation into the depths of ocean life and a call to consider what nature can reveal about the human condition from a brilliant and poetic writer."—Kerry McHugh, SHELF AWARENESS, Starred Review
"At turns poignant and hilarious, these essays reveal the fascinating, often mysterious lives of sea creatures, from yeti crabs to whales, to interrogate fundamental ideas about what it means to be human."—Maya L. Kapoor, UNDARK MAGAZINE
"a book that invites us to envision wilder, grander, and more abundant possibilities for the way we live."—Carrie McBride, New York Public Library
"A world-expanding book, brimming with so much: life, pain, loss, wonder."—Keziah Weir, VANITY FAIR
"Imbler is a science writer with a knack for pulling gut-wrenching meaning out of everything from Linnaean taxonomy to the carapace of a horseshoe crab washed up on a New York City beach. In this essay collection, they manage to balance science and emotion without leaning too heavily on anthropomorphizing…Some listeners might find more to love on either end of the metaphor — the science or the deeply personal narrative — but here one cannot exist without the other, and the end result reveals just as much about our fascinating, mysterious world as it does about our fascinating, mysterious selves."—Sebastian Modak, THE NEW YORK TIMES
"Lively prose about marine biology mixed with an intimate, thoughtful, emotionally affecting memoir. In How Far the Light Reaches, Imbler examines their own personal history, drawing connections between their struggles to adapt to and grow beyond life in California's suburbs with the stories of creatures they love."—Kate Knibbs, WIRED, The 12 Best Books of 2022
"Imbler adds to the cumulative knowledge [of sea creatures] with keen, observation-derived accounts of these critters, most of which do not comport with our standard idea of fishes. Their writing in this vein is thoroughly professional but readily accessible to lay readers."—Tim Pfaff, BAY AREA REPORTER
"Imbler shows us that the ocean, in all its mystery and dazzling glory, is queer — that is, the life that takes shape there challenges how we landlubbers perceive ways of being."—Aina Abell, SCIENCE NEWS
"Across the collection, Imbler asks us to think about how our lives mirror those of the animals around us, especially the ones who so often escape our gaze, just like the darker facets of our own personalities and histories."—LOS ANGELES REVIEW OF BOOKS
"Marine biology, cultural criticism, and memoir blend in this agile collection of essays, which brims with illuminating connections . . . Like the cuttlefish, which can change appearance 'in a fraction of a second,' the book has a protean quality, and the way Imbler pays attention to animals living 'an alternative way of life' without excessively anthropomorphizing them starts to seem like an ethical act."—THE NEW YORKER
"It is refreshing to be invited into the crafting of a narrative, to see how one can build upon a literature while acknowledging the need to move past it. Imbler successfully captures ambiguity without pinning it down, at a moment when science, media, and self-branding capitalism are so eager to name us...The effect may have been hokey in the hands of another writer, but Imbler never fails to demonstrate that a different way of life is possible. It's easy to get picked up by the current of their words, and the many maybes they open up."—Mai Tran, THE RUMPUS
"Absolutely stunning."—David Martinez, THE CRITERION
"Exploring themes of adaptation, survival, sexuality, and care, and weaving the wonders of marine biology with stories of their own family, relationships, and coming of age, How Far the Light Reaches is a shimmering, otherworldly debut that attunes us to new visions of our world and its miracles."—Annalee Newitz, SCIENCE FRIDAY