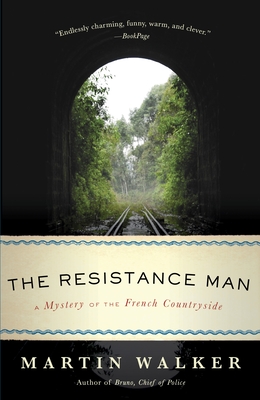 The Resistance Man: A Mystery of the French Countryside (Bruno, Chief of Police Series #6)
Publication Date:
January 6th, 2015
Usually Ships in 1 to 5 Days
Description
Another delightful installment in the internationally acclaimed series featuring Chief of Police Bruno.
It's summer in St. Denis for chief of police Bruno Courrèges, and that means a new season of cases. This time there are three weighing on his mind. First, there's the evidence that a veteran of the French Resistance is connected to a notorious train robbery; then, the burglary of a former British spymaster's estate; and, finally, the murder of an antiques dealer whose lover is conveniently on the lam. 
 
As Bruno investigates, it becomes clear that they are connected--however, figuring out how will take every skill he possesses. Add in juggling the complex affections of two powerful women, maneuvering village politics, and managing his irrepressible puppy, Balzac, and Bruno has his hands full once again.
Praise for The Resistance Man: A Mystery of the French Countryside (Bruno, Chief of Police Series #6)
"Endlessly charming, funny, warm, and clever." —BookPage
 
"Bruno Courrèges may be France's … answer to dapper James Bond." —Minneapolis Star-Tribune
 
"Engaging. . . . This is not the first Bruno mystery, and it certainly should not be the last."
—The Washington Times
 
"What's not to like? . . . Don't be surprised if you come away from this book with a hankering to read another six or seven [Bruno] novels." —New York Journal of Books
"A passionate valentine to the splendors of the slow life." —Washington Independent Review of Books
 
"While most readers think the British have a line on cozies, Walker makes a great case for the French version. . . . [An] appetizing mystery." —Booklist
 
"Evokes all the history, culture, romance and fine food and drink you might expect of French village life." —BookPage

"Endearing . . . . Fans and newcomers alike will savor Walker's ability to smoothly fold suspense into his Périgordian soufflé." —Publishers Weekly

"[A] celebration of la belle France. But this time, Bruno, who's required to act as enforcer, sleuth, diplomat, comforter, impersonator, hostage negotiator and rescuer, reveals unexpected resources." —Kirkus Reviews
 
"An exemplary entry in the police procedural." —Bookgasm