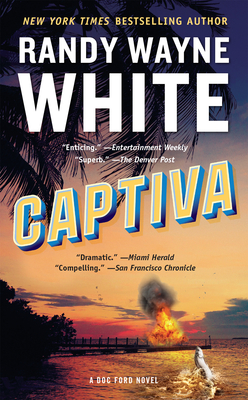 Captiva (A Doc Ford Novel #4)
Publication Date:
May 1st, 1997
Publisher:
G.P. Putnam's Sons
Description
"A Doc Ford novel has more slick moves than a snake in the mangroves. In Captiva, Randy Wayne White takes us places that no other Florida mystery writer could hope to find."—Carl Hiaasen
Randy Wayne White is acclaimed as "wildly inventive" (The San Diego Union-Tribune), "a wonderful writer" (Paul Theroux), "a fine storyteller" (Peter Matthiessen), and "the rightful heir to John D. MacDonald" (The Tampa Tribune-Times). Now he delivers a wicked thriller that sends government agent-turned-marine biologist Doc Ford into dangerous new waters, as a Florida fishing dispute escalates into a deadly war that reaches across the ocean...
Praise for Captiva (A Doc Ford Novel #4)
Praise for Captiva
"The thriller Captiva is a lot like fishing...you are...caught!...One of the more dramatic finales in mystery fiction. White tellsone whale of a story."—Miami Herald
"An enticing brew of hard-drinking, thick-skulled anglers, plodding detectives, and plotting marina bosses. White knows a thing or two about friendship, love, and honor. He also knows it's possible for neighbors who share the same small island to appreciate and understand each other so little."—Entertainment Weekly

"Edginess is what sets White's work apart from the pack....A prickly,enigmatic hero...Ambience, compelling characters and straight forward suspense."—San Francisco Chronicle