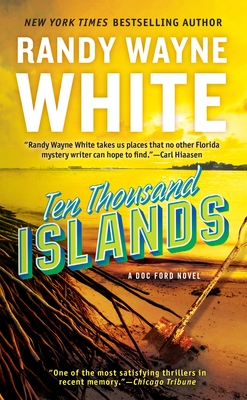 Ten Thousand Islands (A Doc Ford Novel #7)
Publication Date:
June 1st, 2001
Publisher:
G.P. Putnam's Sons
Description
Government agent-turned-marine biologist Doc Ford sails an endless sea of questions when he agrees to investigate a death from the past. Years ago, off Florida's Gulf Coast, a teenaged girl found an ancient gold medallion. Then, she began having nightmares. Then she was found hanging from a tree.
Now, years later, the girl's mother is being terrorized with break-ins, phone calls with no one there—and her daughter's grave has been dug up. Somebody wants that medallion.
The search for answers will lead Doc through a shadowy world of ancient ritual and modern corruption, to an evil that was born in the past—but lives in the present…
Praise for Ten Thousand Islands (A Doc Ford Novel #7)
"One of the most satisfying thrillers in recent memory."—Chicago Tribune
"This latest entry in the Doc Ford series is one of the strongest…A taut story of modern greed and violence. Plenty of great twists…make this one of the most satisfying thrillers in recent memory."—Chicago Tribune"We can't think of a better way to spend a summer afternoon than curled up with this book…A wild dangerous adventure…Breathless action."—The Denver Post
"A powerful look at Florida's heart of darkness…A rapid-fire tale that will snare readers like a treble hook…No on around today writes as well about Florida…Rough-edged and violent…One of the best in a series that is as good as anything being written today."—The Tampa Tribune
"When it comes to Florida, White is positively lyrical…Marvelous description, good plotting, and plenty of action."—Florida Times-Union"No one evokes life along the sultry mangrove coast of Southwest Florida as perfectly…White's best book yet."—Albuquerque Tribune
"White…can be counted on to produce the real goods…And although he's subtle about the atmospherics, when White cranks up the momentum, he tosses in everything."—The Palm Beach Post"Fast-paced…This is Key Largo meets Wild Kingdom."—The News and Observer (Raleigh, N.C.)
"White writes with an obvious knowledge and love of Florida's west coast, an intimacy made possible only by living here, and one which helps make the book a pleasant summer escape."—Sarasota Herald-Tribune
"Maintains an edgy sense of adventure…White's strong sense of place and people keep us wanting to return to Florida's west coast."—The Times Union (Albany, N.Y.)