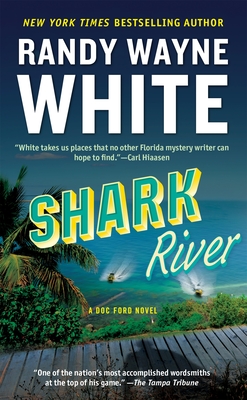 Shark River (A Doc Ford Novel #8)
Publication Date:
June 4th, 2002
Publisher:
G.P. Putnam's Sons
Description
Randy Wayne White's Ten Thousand Islands was "one of the most satisfying thrillers in recent memory"--Chicago Tribune

"Of all the writers [in] the Florida mayhem boom, only White can claim to have created a series hero to match Hemingway's memorable outdoorsmen and John D. MacDonald's much-missed Travis McGee."--Publishers Weekly (starred review)
The past comes disconcertingly alive for Doc Ford in Randy Wayne White's most electrifying novel yet.
On a working vacation to Guava Key, marine biologist Doc Ford notices two female joggers who follow the same route at the same time every day. He can't help thinking how easy it would be for a predator to become aware of them, too. As it turns out, he isn't the only one. There seem to be more and more predators these days.
Forced to step in, Ford finds himself involved in a story of intrigue and revenge that becomes more dangerous with every turn-and some of them hit pretty close to home. Add to that a Bahamian relative he never knew he had, a letter leading to a treasure that may or may not exist, and some past history that becomes very alarmingly present, and his life has suddenly become very complicated. Not to mention the prospect of his death. . . .
Filled with crackling power and atmosphere, and some of the best suspense characters in fiction, Shark River is a triumph of storytelling.