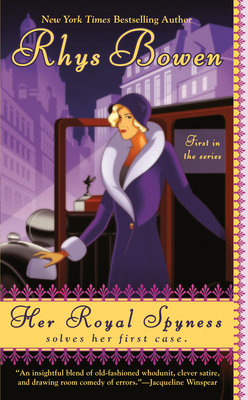 Her Royal Spyness (A Royal Spyness Mystery #1)
Publication Date:
July 1st, 2008
Usually Ships in 1 to 5 Days
Description
THE FIRST ROYAL SPYNESS MYSTERY!
The New York Times bestselling author of the Molly Murphy and Constable Evan Evans mysteries turns her attentions to "a feisty new heroine to delight a legion of Anglophile readers."*
London, 1932. Lady Victoria Georgiana Charlotte Eugenie, 34th in line for the English throne, is flat broke. She's bolted Scotland, her greedy brother, and her fish-faced betrothed. London is a place where she'll experience freedom, learn life lessons aplenty, do a bit of spying for HRH—oh, and find a dead Frenchman in her tub. Now her new job is to clear her long family name...

Praise for Her Royal Spyness (A Royal Spyness Mystery #1)
"An insightful blend of old-fashioned whodunnit, clever satire and drawing room comedy of errors."—*New York Times bestselling author Jacqueline Winspear
"The perfect fix between seasons for Downton Abbey addicts."—New York Times bestselling author Deborah Crombie
"Fans of P.G. Wodehouse looking for laughs mingled with some amateur sleuthing will be quite pleased."—Publishers Weekly (starred review)
"Georgie's high spirits and the author's frothy prose are utterly captivating."—The Denver Post
"A smashing romp."—Booklist (starred review)