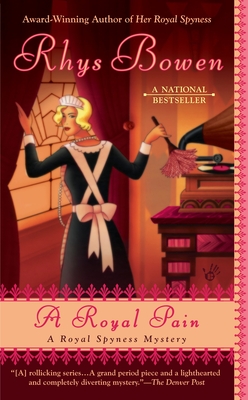 A Royal Pain (A Royal Spyness Mystery #2)
Publication Date:
July 7th, 2009
Description
Lady Georgiana finds herself in a heap of royal trouble in the second novel in the New York Times bestselling Royal Spyness Mystery series.
London, 1932. Poor Lady Georgiana—thirty-fourth in line to the throne—has nothing to serve her Bavarian princess houseguest, even though the Queen of England has requested that she entertain her. Then there's the matter of the body in the bookshop and the princess's unwitting involvement with the Communist party. It's enough to drive a girl mad...
Praise for A Royal Pain (A Royal Spyness Mystery #2)
Praise for the Royal Spyness Mysteries
"Wonderful characters...A delight."—#1 New York Times bestselling author Charlaine Harris
"An insightful blend of old-fashioned whodunnit, clever satire and drawing room comedy of errors."—New York Times bestselling author Jacqueline Winspear
"Brilliant...This is so much more than a murder mystery. It's part love story, part social commentary, part fun and part downright terrifying. And completely riveting."—#1 New York Times bestselling author Louise Penny
"The perfect fix between seasons for Downton Abbey addicts."—New York Times bestselling author Deborah Crombie
"Fans of P.G. Wodehouse looking for laughs mingled with some amateur sleuthing will be quite pleased."—Publishers Weekly (starred review)
"Georgie's high spirits and the author's frothy prose are utterly captivating."—The Denver Post
"A smashing romp."—Booklist (starred review)