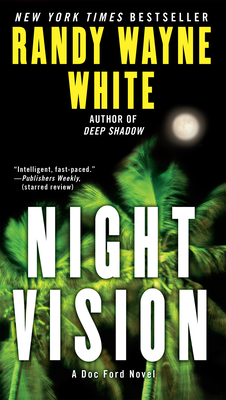 Night Vision (A Doc Ford Novel #18)
Publication Date:
January 31st, 2012
Publisher:
G.P. Putnam's Sons
Description
Doc Ford is on a collision course with death in this extraordinary New York Times bestseller from Randy Wayne White.
The Red Citrus trailer park is inhabited mostly by illegal laborers. But the steroid-powered park manager and his grotesquely muscular girlfriend figure that selling the park to developers would be easy money—and they're ready to do whatever it takes to drive the residents out.
 
The problem is a young girl who the laborers believe talks to God. The manager doesn't know if she's valuable or a liability. But when the girl witnesses him dumping a corpse into a lake, there is one thing he knows for certain: He's got to shut her up permanently.
The girl's only hope for survival: marine biologist Doc Ford, who must search through an underground, invisible nation...and hope he reaches her in time. 
Praise for Night Vision (A Doc Ford Novel #18)
Praise for Night Vision

"Intelligent, fast-paced...White balances the sordid criminal activities with plenty of intriguing wildlife lore. The bond that Tula forms with her captor adds poignancy."—Publishers Weekly (starred review)
 
"White draws on his strength at putting Doc and his hippie friend, Tomlinson, into tense situations that require his skill at dealing with danger....Harris and Frankie may be White's most believable—and frightening—villains."—South Florida Sun-Sentinel
 
"This is a well-written, suspenseful tale that introduces us to some irresistible new characters."—Associated Press
 
"As always, White handles the action scenes superbly, writing with both precision and dramatic fl air...A must for series fans."—Booklist
 
"Authentic bad guys juxtaposed with the innocent Tula create a story Doc Ford fans and adventure readers will enjoy."—Library Journal
 
"White delivers his patented slam-bang action and southwest Florida atmosphere, and Ford is still the kind of guy who can handle half a dozen heavily armed gangbangers, figure out a work-around for doing a bootlegger's turn in a car with antilock brakes—and pick up a hot biologist at an alligator autopsy and romance her until she hollers for mercy."—St. Petersburg Times