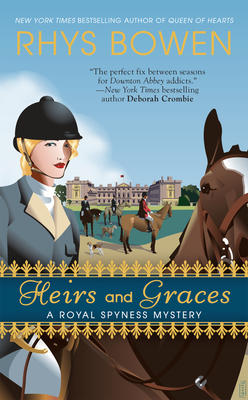 Heirs and Graces (A Royal Spyness Mystery #7)
Publication Date:
August 5th, 2014
Usually Ships in 1 to 5 Days
Description
Lady Georgiana Rannoch learns that not everyone knows their table manners when a knife ends up in a duke's back in the seventh Royal Spyness Mystery.

London, 1934. Entrusted by Her Majesty the Queen with grooming Jack Altringham—the Duke of Eynsford's newly discovered heir fresh from the Outback of Australia—for high society, Georgie now has the luxurious opportunity to live in one of England's most gorgeous stately homes. But upon her arrival at Kingsdowne Place, Georgie finds herself in a manor full of miscreants, none of whom are pleased with the discovery of her new ward.
 
Then the duke announces he wants to choose his own heir and causes quite the hubbub. Somewhere along the way Jack's hunting knife ends up in the duke's back. Eyes fall, backs turn, and fingers point to the young heir. As if the rascal weren't enough of a handful, now he's suspected of murder. But while Jack may be wild, Georgie would bet the crown jewels it wasn't he who killed the duke...
Praise for Heirs and Graces (A Royal Spyness Mystery #7)
Praise for the Royal Spyness Mysteries
"Wonderful characters...A delight."—#1 New York Times bestselling author Charlaine Harris
"An insightful blend of old-fashioned whodunnit, clever satire and drawing room comedy of errors."—New York Times bestselling author Jacqueline Winspear
"Brilliant...This is so much more than a murder mystery. It's part love story, part social commentary, part fun and part downright terrifying. And completely riveting."—#1 New York Times bestselling author Louise Penny
"The perfect fix between seasons for Downton Abbey addicts."—New York Times bestselling author Deborah Crombie
"Fans of P.G. Wodehouse looking for laughs mingled with some amateur sleuthing will be quite pleased."—Publishers Weekly (starred review)
"Georgie's high spirits and the author's frothy prose are utterly captivating."—The Denver Post
"A smashing romp."—Booklist (starred review)