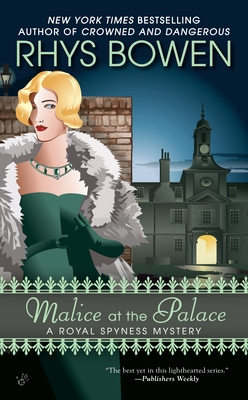 Malice at the Palace (A Royal Spyness Mystery #9)
Publication Date:
August 2nd, 2016
Description
Thirty-fifth in line for the British throne, Lady Georgiana Rannoch becomes embroiled in royal wrongdoing in the ninth mystery from the New York Times bestselling author of Crowned and Dangerous.
Caught between her high birth and empty purse, Georgie is relieved to receive a new assignment from the Queen. The King's youngest son, George, is to wed Princess Marina of Greece, and the Queen wants Georgie to be her companion: showing her the best of London—and dispelling any rumors about George's libertine history.
The prince is known for his many affairs with women as well as men—including the great songwriter Noel Coward. But things truly get complicated when one of his supposed mistresses is murdered.
The Queen wants the whole matter hushed. But as the case unfolds—and Georgie's beau Darcy, as always, turns up in the most unlikely of places—their investigation brings them precariously close to the prince himself.
Praise for Malice at the Palace (A Royal Spyness Mystery #9)
Praise for the Royal Spyness Mysteries
"Wonderful characters...A delight."—#1 New York Times bestselling author Charlaine Harris
"An insightful blend of old-fashioned whodunnit, clever satire and drawing room comedy of errors."—New York Times bestselling author Jacqueline Winspear
"Brilliant...This is so much more than a murder mystery. It's part love story, part social commentary, part fun and part downright terrifying. And completely riveting."—#1 New York Times bestselling author Louise Penny
"The perfect fix between seasons for Downton Abbey addicts."—New York Times bestselling author Deborah Crombie
"Fans of P.G. Wodehouse looking for laughs mingled with some amateur sleuthing will be quite pleased."—Publishers Weekly (starred review)
"Georgie's high spirits and the author's frothy prose are utterly captivating."—The Denver Post
"A smashing romp."—Booklist (starred review)