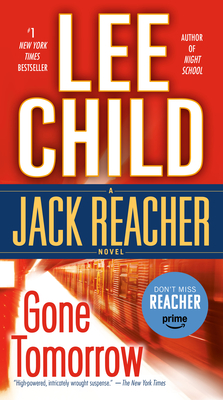 Gone Tomorrow: A Jack Reacher Novel
Publication Date:
March 23rd, 2010
Usually Ships in 1 to 5 Days
Jack Reacher is back. It's 2:00 a.m. on a New York City subway, and something is not quite right, as Jack spots a passenger who might not be what she seems. In his most intensely gripping novel yet, Lee Child takes us on the ride of a lifetime through the dark warrens of NYC.
June 2009 Indie Next List
Description
#1 NEW YORK TIMES BESTSELLER • THE BLOCKBUSTER JACK REACHER SERIES THAT INSPIRED TWO MAJOR MOTION PICTURES AND THE STREAMING SERIES REACHER
"High-powered, intricately wrought suspense."—Janet Maslin, The New York Times
 
New York City. Two in the morning. A subway car heading uptown. Jack Reacher, plus five other passengers. Four are okay. The fifth isn't. And if you think Reacher isn't going to get involved . . . then you don't know Jack.
 
Susan Mark, the fifth passenger, had a big secret, and her plain little life was being watched in Washington, and California, and Afghanistan—by dozens of people with one thing in common: They're all lying to Reacher. A little. A lot. Or just enough to get him killed. A race has begun through the streets of Manhattan, a maze crowded with violent, skilled soldiers on all sides of a shadow war. For Jack Reacher, a man who trusts no one and likes it that way, the finish line comes when you finally get face-to-face and look your worst enemy in the eye.
 
"Propulsive . . . [Child is] an expert at ratcheting up tension."—Los Angeles Times
"Hold on tight. . . . This novel will give you whiplash as you rabidly turn pages. . . . May be [Lee Child's] best."—USA Today
Praise for Gone Tomorrow: A Jack Reacher Novel
"The ever-resourceful and vengeful Reacher takes on nearly a score of the bad guys in an exciting climax to an enthralling book . . . complete with cover-ups and numerous intriguing twists."—Library Journal (starred review)
"A superb New York novel . . . Child grounds his hero's hard body and hard-drive brain in believable detail, and he sets the action against a precisely described landscape."—Booklist (starred review)

"All good thriller writers know how to build suspense and keep the pages turning, but only better ones deliver tight plots as well, and only the best allow the reader to match wits with both the hero and the author. Bestseller Child does all of that in spades. . . . [He] sets things up subtly and ingeniously, then lets Reacher use both strength and guile to find his way to the exciting climax."—Publishers Weekly (starred review)
Praise for the Jack Reacher series
"The truth about Reacher gets better and better. . . . This series [is] utterly addictive."—Janet Maslin, The New York Times

"Jack Reacher is today's James Bond, a thriller hero we can't get enough of. I read every one as soon as it appears."—Ken Follett
"Reacher is the stuff of myth. . . . One of this century's most original, tantalizing pop-fiction heroes."—The Washington Post
 
"I'm a fan."—James Patterson
 
"The Reacher novels are easily the best thriller series going."—NPR
"Reacher is a man for whom the phrase moral compass was invented: His code determines his direction. . . . You need Jack Reacher."—The Atlantic
"I pick up Jack Reacher when I'm in the mood for someone big to solve my problems."—Patricia Cornwell
 
"[A] feverishly thrilling series . . . You can always count on furious action."—Miami Herald