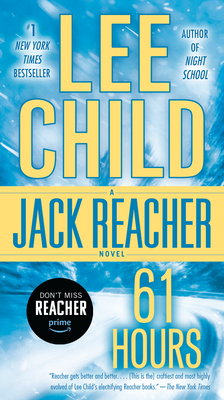 61 Hours: A Jack Reacher Novel
Publication Date:
September 28th, 2010
Usually Ships in 1 to 5 Days
Description
#1 NEW YORK TIMES BESTSELLER • THE BLOCKBUSTER JACK REACHER SERIES THAT INSPIRED TWO MAJOR MOTION PICTURES AND THE STREAMING SERIES REACHER
"Reacher gets better and better. . . . [This is the] craftiest and most highly evolved of Lee Child's electrifying Reacher books."—Janet Maslin, The New York Times
 
A bus crashes in a savage snowstorm and lands Jack Reacher in the middle of a deadly confrontation. In nearby Bolton, South Dakota, one brave woman is standing up for justice in a small town threatened by sinister forces. If she's going to live long enough to testify, she'll need help. Because a killer is coming to Bolton, a coldly proficient assassin who never misses.
 
Reacher's original plan was to keep on moving. But the next 61 hours will change everything. The secrets are deadlier and his enemies are stronger than he could have guessed—but so is the woman he'll risk his life to save.
Praise for 61 Hours: A Jack Reacher Novel
"Child is a superb craftsman of suspense, juggling several plots and keeping his herrings well-rouged. . . . Chances are you'll want to seek out other Reacher adventures the moment you finish."—Entertainment Weekly
"Masterful . . . a tour-de-force of both structure and suspense."—The Providence Journal
"Child keeps his foot hard on the throttle. . . . This is Child in top form, but isn't he always?"—Booklist (starred review)
"Compulsively addictive [with] an explosive climax that will have you tearing out your hair until Reacher's next appearance."—The Miami Herald

Praise for the Jack Reacher series
"The truth about Reacher gets better and better. . . . This series [is] utterly addictive."—Janet Maslin, The New York Times

"Jack Reacher is today's James Bond, a thriller hero we can't get enough of. I read every one as soon as it appears."—Ken Follett
"Reacher is the stuff of myth. . . . One of this century's most original, tantalizing pop-fiction heroes."—The Washington Post

"I'm a fan."—James Patterson
 
"The Reacher novels are easily the best thriller series going."—NPR
"Reacher is a man for whom the phrase moral compass was invented: His code determines his direction. . . . You need Jack Reacher."—The Atlantic
 
"I pick up Jack Reacher when I'm in the mood for someone big to solve my problems."—Patricia Cornwell
 
"[A] feverishly thrilling series . . . You can always count on furious action."—Miami Herald