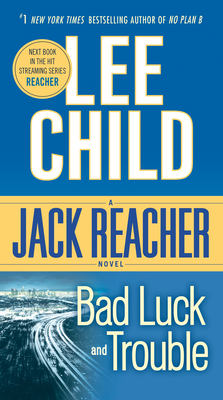 Bad Luck and Trouble: A Jack Reacher Novel
Publication Date:
May 19th, 2009
Usually Ships in 1 to 5 Days
Description
THE NEXT BOOK IN THE #1 NEW YORK TIMES BESTSELLING JACK REACHER SERIES THAT INSPIRED THE SECOND SEASON OF THE HIT STREAMING SERIES REACHER
"Electrifying . . . this series [is] utterly addictive."—Janet Maslin, The New York Times
From a helicopter high above the California desert, a man is sent free-falling into the night. On the streets of Portland, Jack Reacher is pulled out of his wandering life and plunged into the heart of a conspiracy that is killing old friends . . . and the people he once trusted with his life.
Reacher is the ultimate loner—no phone, no ties, no address. But a woman from his old military unit has found him using a signal only the eight members of their elite team would know. Then she tells him a terrifying story about the brutal death of a man they both served with. Soon Reacher is reuniting with the survivors of his team, scrambling to unravel the sudden disappearance of two other comrades. But Reacher won't give up—because in a world of bad luck and trouble, when someone targets Jack Reacher and his team, they'd better be ready for what comes right back at them.
Praise for Bad Luck and Trouble: A Jack Reacher Novel
"Electrifying . . . This series [is] utterly addictive."—Janet Maslin, The New York Times
 
"[An] action-packed thrill ride."—Chicago Tribune
 
"A slam-bang yarn filled with Child's usual terse life-and-death lessons."—Entertainment Weekly
 
"A breathless, ultra-cool novel with relentless pacing."—The Plain Dealer