Discounted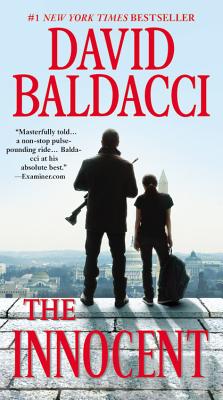 The Innocent (Will Robie Series #1)
Previous price:

$10.99
Current price:

$10.00
Publication Date:
February 26th, 2013
Usually Ships in 1 to 5 Days
Description
America's best hitman was hired to kill--but when a D.C. government operation goes horribly wrong, he must rescue a teenage runaway and investigate her parents' murders in this #1 New York Times bestselling thriller.
It begins with a hit gone wrong. Robie is dispatched to eliminate a target unusually close to home in Washington, D.C. But something about this mission doesn't seem right to Robie, and he does the unthinkable. He refuses to pull the trigger. Now, Robie becomes a target himself and is on the run.
Fleeing the scene, Robie crosses paths with a wayward teenage girl, a fourteen-year-old runaway from a foster home. But she isn't an ordinary runaway--her parents were murdered, and her own life is in danger. Against all of his professional habits, Robie rescues her and finds he can't walk away. He needs to help her. Even worse, the more Robie learns about the girl, the more he's convinced she is at the center of a vast cover-up, one that may explain her parents' deaths and stretch to unimaginable levels of power.
Now, Robie may have to step out of the shadows in order to save this girl's life...and perhaps his own.
Praise for The Innocent (Will Robie Series #1)
"[A] spectacular entry into the hardcore action-adventure world...a tour de force of storytelling power and grace. Baldacci at his best, which is as good as it gets."—Providence Sunday Journal
"This is another great novel by a brilliant writer. Baldacci catches you from the very first page and grabs your attention until the last word. Read it."—Lincoln Journal Star (NE)
"Another action tale of espionage and betrayal from a master storyteller. Baldacci brings his unusual, distinctive skill in character development to portray people who seem very real, with a degree of unpredictability that advances this very clever plot."—The Free-Lance Star
"This book is a definite one-day, 'edge-of-your-chair' read, with an ending that is a complete surprise. One of the best Baldacci's since Absolute Power, this is one that will have all suspense readers enthralled."—Suspense Magazine
"The Innocent is Baldacci at his absolute best...Baldacci provides the reader a non-stop pulse pounding ride that will keep you on the edge of your seat into the wee hours of the morning...Five Stars."—Examiner.com
"David Baldacci is still at the top of his game...He is a meticulous writer who blasts his plot into a million pieces yet is able to pull it back together before the final page is turned. [He] continutes to impress."—The Huffington Post
"The spine-chilling action begins on the first page and doesn't let up until the last...The Innocent is not just a scary read; this is heart-stopping stuff!"—BookReporter.com