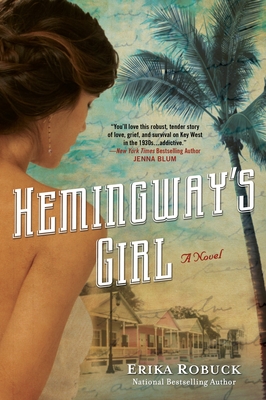 Hemingway's Girl
Publication Date:
September 4th, 2012
Usually Ships in 1 to 5 Days
Description
From the bestselling author of The House of Hawthorne comes a historical fiction novel that gives life to the women behind novelist Ernest Hemingway in a "robust, tender story of love, grief, and survival on Key West in the 1930s."*
In Depression-era Key West, Mariella Bennet, the daughter of an American fisherman and a Cuban woman, knows hunger. Her struggle to support her family following her father's death leads her to a bar and bordello, where she bets on a risky boxing match...and attracts the interest of two men: world-famous writer, Ernest Hemingway, and Gavin Murray, one of the WWI veterans who are laboring to build the Overseas Highway.
When Mariella is hired as a maid by Hemingway's second wife, Pauline, she enters a rarified world of lavish, celebrity-filled dinner parties and elaborate off-island excursions. As she becomes caught up in the tensions and excesses of the Hemingway household, the attentions of the larger-than-life writer become a dangerous temptation...even as straightforward Gavin Murray draws her back to what matters most.  Will she cross an invisible line with the volatile Hemingway, or find a way to claim her own dreams?  As a massive hurricane bears down on Key West, Mariella faces some harsh truths...and the possibility of losing everything she loves.
Praise for Hemingway's Girl
"Robuck's breathtaking alchemy is to put us inside the world of Hemingway and his wife Pauline....Dazzlingly written and impossibly moving, this novel is a supernova."—Caroline Leavitt, New York Times bestselling author of Cruel Beautiful World
"You'll love this [novel]...Addictive."—*Jenna Blum, New York Times bestselling author of The Stormchasers
"Richly realized...Readers will delight in the complex relationships and vivid setting."—Publishers Weekly

"A total reading pleasure—ultimately a story about seeking and finding the best in ourselves and in others."—Historical Novel Society, Editor's Choice
"I fell in love with Robuck's Hemingway and with the fiery Mariella Bennet, but what I loved most was the novel's message: that we can inspire each other to be better human beings."—Ann Napolitano, author of A Good Hard Look
"Evokes a setting of the greatest fascination...This is assured and richly enjoyable storytelling."—Margaret Leroy, author of The Soldier's Wife
"Brings to vivid life the captivating and volatile world of a literary legend."—Kristina McMorris, author of The Edge of Lost
"An inspiring story of heartache and renewal. Readers will be sure to enjoy this ode to a literary icon."—Sarah McCoy, bestselling author of The Mapmaker's Children
"Colorful, atmospheric, and a pleasure to plunge into."—Joseph Wallace, author of Diamond Ruby