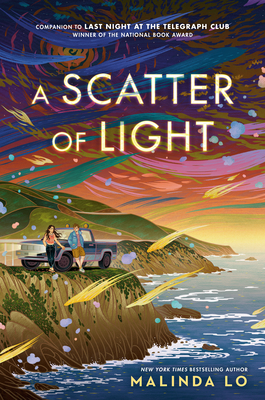 A Scatter of Light
Publication Date:
October 4th, 2022
Publisher:
Dutton Books for Young Readers
Usually Ships in 1 to 5 Days
Such a lovely, honest, and messy queer coming-of-age story! Lo communicates the desperation and senselessness of young love in a self-aware, caring way. Beautiful musings on art, astronomy, and grief, handled with care and maturity!
November/December 2022 Kids Indie Next List
Description
"Full of yearning, ponderances about art and what it means to be an artist, and self-revelation, A Scatter of Light has a simmering intensity that makes it hard to put down."—NPR
An Instant New York Times Bestseller
Last Night at the Telegraph Club author Malinda Lo returns to the Bay Area with another masterful queer coming-of-age story, this time set against the backdrop of the first major Supreme Court decisions legalizing gay marriage. 
Aria Tang West was looking forward to a summer on Martha's Vineyard with her best friends—one last round of sand and sun before college. But after a graduation party goes wrong, Aria's parents exile her to California to stay with her grandmother, artist Joan West. Aria expects boredom, but what she finds is Steph Nichols, her grandmother's gardener. Soon, Aria is second-guessing who she is and what she wants to be, and a summer that once seemed lost becomes unforgettable—for Aria, her family, and the working-class queer community Steph introduces her to. It's the kind of summer that changes a life forever.
And almost sixty years after the end of Last Night at the Telegraph Club, A Scatter of Light also offers a glimpse into Lily and Kath's lives since 1955.
Praise for A Scatter of Light
An NPR Best Book of the Year
A Parents Magazine Best Book of the Year
A BuzzFeed Best Book of the Year
"Full of yearning, ponderances about art and what it means to be an artist, and self-revelation, A Scatter of Light has a simmering intensity that makes it hard to put down."—NPR 
"The intimate details and complex relationships of this perfectly rendered story of first love between two young women is reminiscent of Judy Blume's classic Forever."—Parents Magazine

"Beautifully rendered and instantly captivating. Malinda Lo writes queer desire like no other."—Diva Magazine
★ "Raw and bittersweet ... [an] expansive tale of yearning, self-discovery, and first love."—Publishers Weekly, starred review
★ "Aria's story is...about what it means to be an artist, a friend, a daughter and a granddaughter, and about how identities of all kinds can converge and crystallize as part of the process of growing up."—BookPage, starred review
★ "Tells the powerful story of one young woman's life-changing summer of self-discovery....Both newcomers and longtime fans of Lo's work should enjoy this narrative of a young woman coming to understand herself and her wants better."—Shelf Awareness, starred review
★ "An excellent coming-of-age and coming-out story. Characters are complicated and messy but in a realistic and relatable way. The story is driven by Aria's truthful narration, which is beautifully reflective of an 18-year-old at that time…. A must-have."—SLJ
"A Scatter of Light is not one but many love letters—to art, to first crushes, and to friendships that span decades and ground you while letting you grow."—Booklist
"This deeply perceptive bildungsroman thoughtfully explores several absorbing topics, but first and foremost it is an intimate, exhilarating story of first love."—Horn Book
"A Scatter of Light is a book of crashes (and crushes) with effects that reverberate across time. It is queer in the best of ways — messy, raw, heartbreaking, freeing, and imperfect."—Autostraddle 
Praise for Last Night at the Telegraph Club, a New York Times Bestseller and Winner of the National Book Award
"Lo's writing is so rich you can practically feel the glow of neon bar lights radiating off the page."—bestselling author Casey McQusiton for Entertainment Weekly

"A must-read."—Us Weekly

"Lush, ambitious and layered, Malinda Lo's sweeping historical novel is the queer romance we've been waiting for."—Ms. Magazine
"This stunning work of historical fiction effectively depicts both the thrills of young queer love and the horrors of racism and the Red Scare."—Boston Globe

"This queer coming-out and coming-of-age story reverberates with dangers, dilemma and a dream deferred."—San Francisco Chronicle
 
"An enthralling historical lesbian romance."—WBUR
"A joy to read."—The Advocate
"Tender and meditative."—Glamour
"Malinda Lo is an absolute icon."—BuzzFeed