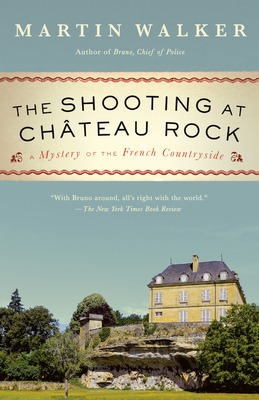 The Shooting at Chateau Rock: A Mystery of the French Countryside (Bruno, Chief of Police Series #13)
Publication Date:
April 6th, 2021
Description
This installment in the delightful, internationally acclaimed series featuring Chief of Police Bruno will take all of Bruno's resolve and quick thinking to untangle a mystery that will reach its deadly denouement at the château of an aging rock star. But in true Bruno fashion, at least lunchtime is never in danger.

It's summer in the Dordogne and the heirs of a modest sheep farmer learn that they have been disinherited. Their father's estate has been sold to an insurance company in return for a policy that will place him in a five-star retirement home for the rest of his life. But the farmer dies before he can move in. Was it a natural death? Or was there foul play? Chief of Police Bruno Courrèges is soon on the case, embarking on an investigation that will lead him to several shadowy insurance companies owned by a Russian oligarch with a Cypriot passport.
The arrival of the oligarch's daughter in the Périgord only further complicates one of Bruno's toughest cases yet.
Praise for The Shooting at Chateau Rock: A Mystery of the French Countryside (Bruno, Chief of Police Series #13)
"With Bruno around, all's right with the world." —The New York Times Book Review
"Walker's Bruno novels are good mysteries, but they're also travelogues and culinary experiences, history lessons and nature guides." —Pittsburgh Post-Gazette
"Unashamedly lavished with warmth. . . . The ubiquitous atmosphere of [Walker's] books is of undisguised affection for the towns, villages, their people, their wine and their food of the Dordogne." —Forbes
"Rich in atmosphere and personality. . . . It's impossible to read a Bruno novel without getting hungry and thirsty." —The New York Times
"Consistently excellent . . . I really want to know Bruno, to eat at his dinner table with his charming and entertaining guests, to play fetch with his basset hound, Balzac . . . I really want to be Bruno." —Bruce Tierney, BookPage (starred review)
"[A] deliciously food-and-wine-soaked world. . . . [With] a cast of characters guaranteed to charm." —Wine Spectator

"Bruno Courrèges may be France's . . . answer to dapper . . . James Bond." —Minneapolis Star Tribune
"[A] charming French village, great food, eccentric characters, and a mystery to nudge things along. . . . Savory indeed." —The Seattle Times
"Falling-off-the-bone French at its ne plus ultra." —Kirkus Reviews
"[An] elegant series. . . . Francophiles will relish the evocative descriptions of the Périgord region and its cuisine. Distinctive characters complement the intricate mystery." —Publishers Weekly (starred review)
"Highly satisfying." —The Boston Globe