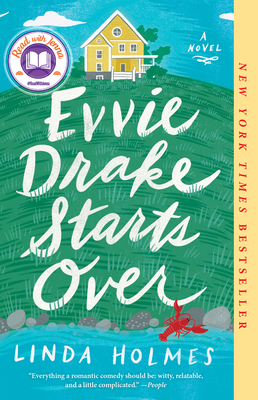 Evvie Drake Starts Over: A Novel
Publication Date:
June 2nd, 2020
Publisher:
Ballantine Books
Usually Ships in 1 to 5 Days
Evvie Drake is young and newly widowed, but no one knows that on the day her husband died, she had finally worked up the nerve to leave him. Dean Tenney is a major league baseball pitcher who has inexplicably lost the talent that made him a star. When Dean moves to Evvie's small town to escape the humiliating sports headlines, their friendship proves to be just what both of them need. This is an absolute treasure of a novel — big-hearted, funny, sweet, and utterly satisfying. I cannot wait to sell this charming gem.
July 2019 Indie Next List
Description
NEW YORK TIMES BESTSELLER • Read with Jenna Book Club Pick as Featured on Today • "Everything a romantic comedy should be: witty, relatable, and a little complicated."—People
A heartfelt debut about the unlikely relationship between a young woman who's lost her husband and a major league pitcher who's lost his game.
NAMED ONE OF THE BEST BOOKS OF THE YEAR BY NPR
In a sleepy seaside town in Maine, recently widowed Eveleth "Evvie" Drake rarely leaves her large, painfully empty house nearly a year after her husband's death in a car crash. Everyone in town, even her best friend, Andy, thinks grief keeps her locked inside, and Evvie doesn't correct them.
Meanwhile, in New York City, Dean Tenney, former Major League pitcher and Andy's childhood best friend, is wrestling with what miserable athletes living out their worst nightmares call the "yips": he can't throw straight anymore, and, even worse, he can't figure out why. As the media storm heats up, an invitation from Andy to stay in Maine seems like the perfect chance to hit the reset button on Dean's future.
When he moves into an apartment at the back of Evvie's house, the two make a deal: Dean won't ask about Evvie's late husband, and Evvie won't ask about Dean's baseball career. Rules, though, have a funny way of being broken—and what starts as an unexpected friendship soon turns into something more. To move forward, Evvie and Dean will have to reckon with their pasts—the friendships they've damaged, the secrets they've kept—but in life, as in baseball, there's always a chance—up until the last out.
A joyful, hilarious, and hope-filled debut, Evvie Drake Starts Over will have you cheering for the two most unlikely comebacks of the year—and will leave you wanting more from Linda Holmes.
Praise for Evvie Drake Starts Over
"A quirky, sweet, and splendid story of a woman coming into her own."—Taylor Jenkins Reid, New York Times bestselling author of Daisy Jones & The Six
"Effortlessly enjoyable . . . [a] pitch-perfect . . . adult love story that is as romantic as it is real."–USA Today
"Charming, hopeful, and gently romantic . . . Evvie Drake is great company."—Rainbow Rowell, #1 New York Times bestselling author of Eleanor & Park
Praise for Evvie Drake Starts Over: A Novel
"[Evvie Drake Starts Over] is so warm and fun; I wanted to bask in it as long as possible, but I couldn't put it down."—Emily Henry, #1 New York Times bestselling author of Happy Place
"A quirky, sweet, and splendid story of a woman coming into her own . . . Linda Holmes's voice is lively and warm, the setting of small-town Maine is pitch-perfect, and the character of Evvie Drake is refreshing in her imperfections—an absolute delight."—Taylor Jenkins Reid, author of Daisy Jones & The Six
"Witty, fun, and utterly relatable debut novel from a very talented new author. Highly recommended if you're looking for a smart love story!"—Emily Giffin, New York Times bestselling author of All We Ever Wanted
"A smart romantic comedy . . . Evvie Drake Starts Over, ripe with amusing wit and charm, skillfully explores regret and longing, friendship, love and forgiveness and the challenges posed by reinvention. . . . Readers will cheer for this richly drawn cast."—Shelf Awareness
"Holmes's debut charms, as a young widow and a former Major League pitcher learn to begin again. . . . At times deeply emotional yet sometimes extremely humorous, this is a satisfying crowd-pleaser."—Publishers Weekly

"If you love well-written characters, quirky towns, and charming, hopeful love stories, this is the perfect book for your next summer read."—BookReporter
"I was utterly charmed—this book shows us that just because you're broken doesn't mean you can't be put back together again. You'll want to stay cozied up with these delightful, unique, and incredibly human characters long after you turn the last page."—Doree Shafrir, author of Startup: A Novel and co-host of the Forever35 podcast

"A sweet and sincere grown-up love story . . . Fans of grounded romance will fall hard for Evvie Drake and Dean Tenney, two broken people who help each other mend. . . . Refreshing and real, with a huge heart. I loved it."—Georgia Clark, author of The Regulars and The Bucket List
"Evvie Drake Starts Over is a warm, witty, and wonderful romance about the art of creating second chances—or a whole second act. Linda Holmes's moving, smartly written debut is so engaging, you'll be tempted to wish Evvie could start over yet again, just for a sequel."—Heather Cocks and Jessica Morgan, bestselling authors of The Royal We
"Holmes writes with an easy warmth about kind people who are trying their best but messing things up anyway. . . . A warm and lovely romance, perfect for readers of Rainbow Rowell and Louise Miller."—Kirkus Reviews (starred review)
"The charm of Holmes' novel comes not only from a genuine friendship between Evvie and Dean that develops into a sweet romance but also from watching amiable Evvie stumble through the process of finding herself in a realistic way. A warm and funny book that will utterly captivate fans of Abbi Waxman and Taylor Jenkins Reid."—Booklist (starred review)