Staff Pick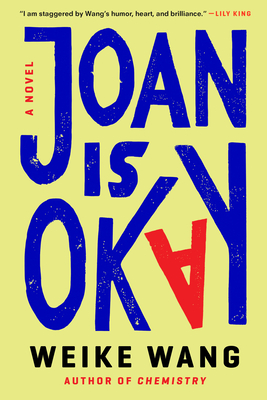 Joan Is Okay: A Novel
Publication Date:
January 18th, 2022
Staff Reviews
JOAN IS OKAY is so, so good! I loved this contemporary story about family, immigration, and life expectations. As unique as her experience is, it was easy to relate to Joan's struggle against the pressures to conform that come at her from all sides. Wang's smart prose sparkles with spare intensity, just like Joan herself. I can't wait to tell readers about this book!
— Serena
A smart, moving, and entertaining book. Joan is the daughter of Chinese immigrants and an ICU doctor in New York City. There's a pandemic looming, but Joan's going to be okay. A witty and insightful story.
February 2022 Indie Next List
As an ardent fan of Chemistry, I was so excited to read Weike Wang's new novel and Joan Is Okay did not disappoint! Wang's prose is uniquely deadpan and funny and heartfelt, all at once.
Spring 2023 Reading Group Indie Next List
Description
NEW YORK TIMES EDITORS' CHOICE • A witty, moving, piercingly insightful new novel about a marvelously complicated woman who can't be anyone but herself, from the award-winning author of Chemistry
LONGLISTED FOR THE ANDREW CARNEGIE MEDAL • "A deeply felt portrait . . . With gimlet-eyed observation laced with darkly biting wit, Weike Wang masterfully probes the existential uncertainty of being other in America."—Celeste Ng, author of Little Fires Everywhere

ONE OF THE BEST BOOKS OF THE YEAR: The New York Times Book Review, The New Yorker, NPR, The Washington Post, Vox
Joan is a thirtysomething ICU doctor at a busy New York City hospital. The daughter of Chinese parents who came to the United States to secure the American dream for their children, Joan is intensely devoted to her work, happily solitary, successful. She does look up sometimes and wonder where her true roots lie: at the hospital, where her white coat makes her feel needed, or with her family, who try to shape her life by their own cultural and social expectations.
 
Once Joan and her brother, Fang, were established in their careers, her parents moved back to China, hoping to spend the rest of their lives in their homeland. But when Joan's father suddenly dies and her mother returns to America to reconnect with her children, a series of events sends Joan spiraling out of her comfort zone just as her hospital, her city, and the world are forced to reckon with a health crisis more devastating than anyone could have imagined.
 
Deceptively spare yet quietly powerful, laced with sharp humor, Joan Is Okay touches on matters that feel deeply resonant: being Chinese-American right now; working in medicine at a high-stakes time; finding one's voice within a dominant culture; being a woman in a male-dominated workplace; and staying independent within a tight-knit family. But above all, it's a portrait of one remarkable woman so surprising that you can't get her out of your head.
Praise for Joan Is Okay: A Novel
"Downright hilarious, sometimes unintentionally, sometimes as a coping mechanism. Wang masterfully balances the many terrors of [the] provocative questions about motherhood, daughterhood, belonging and the many definitions of 'home.'"—The New York Times Book Review
"This is the first book I loved this year. . . . It's smart, heartfelt and insightful, and—I almost hate to say it—I literally laughed and cried."—Erin Sells, NPR
 
"Incisive yet tender, written with elegant style and delicious verve. Joan isn't just okay, she's wonderful. I could listen to her smart, witty voice forever."—Sigrid Nunez

"Joan . . . is solitary, literal-minded and extremely awkward—all of which contribute to the hilarity of this novel."—The New York Times
"A wry, wise, and simply spectacular book."—People ("Book of the Week")
"A smart, powerful, and very contemporary read that touches on the struggles shaping the very world we live in today."—Town & Country
"The uncomfortable humor and weird politics of family are front and center . . . all delivered with surprisingly caustic wit."—Esquire
"Unflinchingly, Joan Is Okay challenges some of our fundamental views on home, belonging, family. A smart, quietly engaging novel that is also warm and moving."—Ha Jin
"Wang has created a compelling character, utterly distinct, and the novel is carried by her dispassionate, clear-eyed, and often drily amusing narration. [The book's] powerful insights will resonate with many."—Claire Messud, Harper's
"Wang takes us into the heart of the matter: death, dysfunction, xenophobia, misogyny, and the chronic misapprehension that passes between people of good intentions. The miracle that emerges, then, is just how funny this book is, how compassionate and visionary."—Joshua Ferris
"I am staggered by Wang's humor, heart, and brilliance. I loved Joan and I am pressing this book into your hands."—Lily King
"This is an Asian American novel like no other, set in the heart of the pandemic, in the city I call home. Joan is my hero."—Ed Park 

"Full of sly wit, off-kilter observations, and misanthropic poetry. Readers will find in Joan a kindred soul."—Lillian Li

"Joan is the perfect guide for our troubled times. I was left circling sentence after sentence."—Heidi Pitlor

"Joan is a character I will be thinking about for a long time to come. I could not put this book down."—Angie Kim
"Brilliant, precise, excruciatingly funny . . . Joan wins your deepest admiration at the same time as her vulnerability breaks your heart."—Lara Vapnyar 

"Joan's voice and world view are hard to shake, and Wang's writing is immensely rewarding and enjoyable."—Charles Yu

"Scathingly witty . . . Wang is wonderful at understated sadness presented without a twinge of self-pity."—Jim Shepard