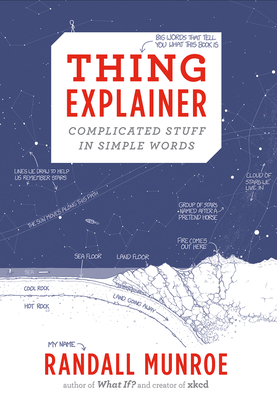 Thing Explainer: Complicated Stuff in Simple Words
Publication Date:
November 24th, 2015
Publisher:
Dey Street Books
Usually Ships in 1 to 5 Days
Description
Have you ever tried to learn more about some incredible thing, only to be frustrated by incomprehensible jargon? Randall Munroe is here to help. In Thing Explainer, he uses line drawings and only the thousand (or, rather, "ten hundred") most common words to provide simple explanations for some of the most interesting stuff there is, including:
 
food-heating radio boxes (microwaves)
tall roads (bridges)
computer buildings (datacenters)
the shared space house (the International Space Station)
the other worlds around the sun (the solar system)
the big flat rocks we live on (tectonic plates)
the pieces everything is made of (the periodic table)
planes with turning wings (helicopters)
boxes that make clothes smell better (washers and dryers)
the bags of stuff inside you (cells)
How do these things work? Where do they come from? What would life be like without them? And what would happen if we opened them up, heated them up, cooled them down, pointed them in a different direction, or pressed this button? In Thing Explainer, Munroe gives us the answers to these questions and so many more. Funny, interesting, and always understandable, this book is for anyone—age 5 to 105—who has ever wondered how things work, and why.
Praise for Thing Explainer: Complicated Stuff in Simple Words
"Brilliant…a wonderful guide for curious minds."—Bill Gates     "Like any good work of science writing, [Thing Explainer] is equal parts lucid, funny, and startling.''—NewYorker.com   "Clever, intricate" —New York Magazine, The Approval Matrix ("highbrow, brilliant")   "Funny, precise and beautifully designed" —The Guardian   "...with witty, playful diagrams, you'll be understanding nuclear reactors ('heavy metal power buildings') in no time." —NPR.org, Best Books of 2015   "Whimsical...Munroe's masterpiece is the antidote to scientific jargon, ably demonstrating that not knowing the exact name for something doesn't mean you can't grasp how it works. The same holds for those doing the explaining: you don't need to use big words to convey meaning. If anything, it just gets in the way." —Gizmodo, Best Science Books of 2015   "Required reading for the curious." —Popular Science   "This book is a feast for the eyes and a party for your brain. I cannot more highly recommend that you get this for yourself, your favorite nerd, or someone who just loves beautiful drawings." —Scientific American   "One of the charms of this new book is that it imbues everything between its covers with a childlike and unpretentious sense of delight in humanity's intellectual achievements."—Tor.com   "[Thing Explainer] soars in both explanatory clarity and entertainment value...Munroe delightfully challenges us to reassess our preconceptions and think of things in new ways." —American Scientist   "Munroe's signature humor and firm grasp on the underlying science and engineering make the book a delightful and informative read." —Science Magazine   "Thing Explainer overall is unintimidating and engaging, with lavish blueprint-like illustrations that draw you into just about every page...Munroe has a gift for turning his own curiosity into your own edification."  —CNET   "I think a lot of people will have a lot of fun reading this book. Even if you know many big ideas, it is fun to see them get very small. And if you just want to learn about how things work, then the book will show you some big ideas without hitting you with big words too. As an idea for how to write a book, I think Thing Explainer is a good one." —Nerdist  PRAISE FOR WHAT IF?     "Toreinvigorate your sense of cosmic wonder...breeze through former NASA scientist Munroe's lively answers—peppered with line drawings—to some pretty bizarre questions about life, the universe, and everything else...Extreme astrophysics and indecipherable chemistry have rarely been this clearly explained or this consistently hilarious."—Entertainment Weekly "10 Best Nonfiction Books of the Year"     "Catchy and approachable...There's plenty of scientific rigor behind his elaborate explanations but he punctuates them with sly humor and winningly primitive cartoon diagrams...A cut above so many popular science and technology books."—NPR.org     "Consistently fascinating and entertaining...Munroe leavens the hard science with whimsical touches...An illuminating handbook of methods of reasoning —