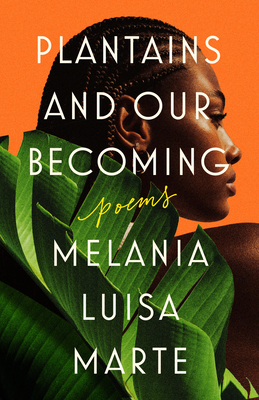 Plantains and Our Becoming: Poems
Publication Date:
August 22nd, 2023
Publisher:
Tiny Reparations Books
Usually Ships in 1 to 5 Days
Description
A rousing, beautifully observed, and tender-hearted debut poetry collection about identity, culture, home, and belonging—for fans of Jasmine Mans and Fatimah Asghar
 
"We, children of plátanos, always gotta learn to play in everyone else's backyard and somehow feel at home."
 
Poet and musician Melania Luisa Marte opens PLAINTAINS AND OUR BECOMING by pointing out that  Afro-Latina is not a word recognized by the dictionary. But the dictionary is far from a record of the truth. What does it mean, then, to tend to your own words and your own record—to build upon the legacies of your ancestors?
 
In this imaginative, blistering poetry collection, Marte looks at the identities and histories of the Dominican Republic and Haiti to celebrate and center the Black diasporic experience. Through the exploration of themes like self-love, nationalism, displacement, generational trauma, and ancestral knowledge, this collection uproots stereotypes while creating a new joyous vision for Black identity and personhood.
 
Moving from New York to Texas to the Dominican Republic and to Haiti, this collection looks at the legacies of colonialism and racism but never shies away from highlighting the beauty—and joy—that comes from celebrating who you are and where you come from. PLANTAINS AND OUR BECOMING is "a full-throated war cry; both a request for anointment and the responding bendición" (Elizabeth Acevedo).
Praise for Plantains and Our Becoming: Poems
One of Bookish's "Must Read Poetry Collections of 2023"

Included in Ms. Magazine's "Best Poetry of the Last Year"

Included in Ebony's "August Required Reading"

One of We All Grow Latina's "20 Books From Latine Authors to Keep an Eye Out for in 2023"

Included in Zibby Mag's "Poetry Collections for National Poetry Month"
"This new debut book of poetry by musician and writer Melania Luisa Marte is a stunning and entertaining exploration of one's identity as both an individual and as part of the larger Black diasporic community."—Shondaland, "Best Books of August"
"Remember the name, because soon it may be difficult not to... In the book, Marte beautifully describes how she pays homage to her Afro-Latinx roots. She brings these stories to the forefront to create a poetic revolution all her own" —PopSugar
"This poetry collection travels all the way from the Dominican Republic and Haiti, to New York and Texas, all the while dipping into things like displacement, nationalism, and the wisdom of ancestors in order to write a new definition of Black identity and joy." —Book Riot
"Plantains and Our Becoming is a beautifully-written debut collection from Afro-Latina poet and musician Melania Luisa Marte. In each poem, Marte explores themes of Black identity and culture through the lens of her Dominican heritage." —The Root, "Books by Black Authors We Can't Wait to Read"
"Throughout the book, [Marte] explores nationalism, colonialism, displacement, trauma, stereotypes, ancestors, and the beauty of Black personhood—all while celebrating her identity and where she comes from, and encouraging her readers to do the same."—Hip Latina
"This collection is a full-throated war cry; both a request for anointment and the responding bendición. Marte writes like she's got daggers between her teeth: yes, there is sharpness in every line, but her words remind us blades also cauterize, heal. Even these ancestral wounds." —Elizabeth Acevedo, the National Book Award winning author of The Poet X
 
"Melania Luisa Marte's Plantains and Our Becoming is a shape shifting work of magic. It is a siren song, a battle cry, an anthem for Afro-Latine centered acts of self-love and revolution. Each line offers us the sharpened blade of a machete to cut away what is rotten. To plant ourselves again. To cultivate our truest, most beautiful selves."—Cleyvis Natera, author of Neruda on the Park
"There is no voice like Melania Luisa Marte's right now. I hesitate to say words like 'necessary' and 'groundbreaking' because it should simply be a given that Marte's work is in people's hands, headphones, bookshelves, and syllabi. Her thrilling collection Plantains and Our Becoming is a portrait of Black girlhood, an ode to daughters of the diaspora, and a lesson on an erased Dominican history. Marte's prose is all at once prayer and captivating lecture; a song that will stay ringing in your ears and refuse to leave. I can't shout about it enough." —Melissa Lozada-Oliva, author of Dreaming of You
 
"The poems in this collection are an experience. One cannot just read these poems without standing right next to the speaker right from the beginning as they are making plátanos. These poems demand the reimagining of justice for Black women. Plantains and Our Becoming examines a lineage of reclamation and resistance in the face of racial injustice with freedom and joy at the helm." —Elisabet Velazquez, author of When We Make It
"Visceral, poignant, devastating, and unconventional. The true aim of poetry is to make you feel and this collection did not disappoint. This is an important collection about belonging, identity, familial bonds, and resistance through existence…Each poem packs a punch and gave me insight into one woman's relationship with her identity."—Elizabeth C., bookseller, via Bookish