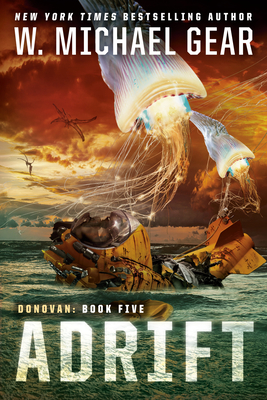 Adrift (Donovan #5)
Publication Date:
June 28th, 2022
Usually Ships in 1 to 5 Days
Description
Now in paperback, the fifth book in the thrilling Donovan sci-fi series returns to a treacherous alien planet where corporate threats and dangerous creatures imperil the lives of the colonists.
The Maritime Unit had landed in paradise. After a terrifying ten-year transit from Solar System aboard the Ashanti, the small band of oceanographers and marine scientists were finally settled. Perched on a reef five hundred kilometers out from shore, they were about to embark on the first exploration of Donovan's seas. For the twenty-two adults and nine children, everything is new, exciting, and filled with wonder as they discover dazzling sea creatures, stunning plant life, and fascinating organisms.
But Donovan is never what it seems; the changes in the children were innocuous--oddities of behavior normal to kids who'd found themselves in a new world. Even then it was too late. An alien intelligence, with its own agenda, now possesses the children, and it will use them in a most insidious way: as the perfect weapons. How can you fight back when the enemy is smarter than you are, and wears the face of your own child?
Welcome to Donovan.
Praise for Adrift (Donovan #5)
Praise for the Donovan novels
"What a ride! Excitement, adventure, and intrigue, all told in W. Michael Gear's vivid, compulsively readable prose. A terrific new science-fiction series; Gear hits a home run right out of the park and all the way to Capella." —Robert J. Sawyer, Hugo Award-winning author of Quantum Night
 
"A marginal colony on a living world—where human life and human will are tested to the limits. An intriguing and inventive new work from Michael Gear, first of a trilogy. Recommended!" —C. J. Cherryh, Hugo Award-winning author of Downbelow Station
 
"Gear kicks off a new sf series by weaving a number of compelling characters into the narrative, including bold heroine Talina Perez and Donovan itself, a planet teeming with danger and delights in turn.... Fans of epic space opera, like Rachel Bach's Fortune's Pawn (2013), will happily lose themselves in Donovan's orbit." —Booklist
 
"W. Michael Gear creates a fun and colorful setting on a planet full of interesting fauna and cunning, deadly animals." —RT Reviews
 
"Dark and gritty, this book shows both the best and worst sides of humanity, all while being emotional and thought-provoking." —It Starts at Midnight
 
"It's not easy to create an entire new planet setting and to immediately ground the reader in that world, but Gear makes it look easy.... He strikes an impressive balance between only telling us what we need to know when we need to know it and making this feel like a fully-realized place from the get-go." —Den of Geek
 
"The novel's prose is as razor-sharp as Donovan's toothy beasts, its characters deftly defined. The enveloping narrative gallops along at a fierce pace and will make Outpost one of the must-read sci-fi releases of 2018 when it arrives on February 20 from DAW Books." —SyFy Wire
 
"A thrilling tale of high-stakes survival on an alien planet." —Dread Central