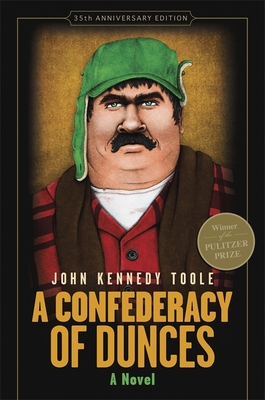 A Confederacy of Dunces
Publication Date:
August 11th, 2014
Usually Ships in 1 to 5 Days
Description
After four decades, the peerless wit and indulgent absurdity of A Confederacy of Dunces continues to attract new readers. Though the manuscript was rejected by many publishers during John Kennedy Toole's lifetime, his mother successfully published the book years after her son's suicide, and it won the 1981 Pulitzer Prize for fiction. This literary underdog and comic masterpiece has sold more than two million copies in over two dozen languages.
A Confederacy of Dunces features one of the most memorable protagonists in American literature, Ignatius J. Reilly, whom Walker Percy dubbed "slob extraordinaire, a mad Oliver Hardy, a fat Don Quixote, a perverse Thomas Aquinas rolled into one." Set in New Orleans with a wild cast of characters including Ignatius and his mother; Miss Trixie, the octogenarian assistant accountant at Levi Pants; inept, wan Patrolman Mancuso; Darlene, the Bourbon Street stripper with a penchant for poultry; and Jones, the jivecat in space-age dark glasses, the novel serves as an outlandish but believable tribute to a city defined by its parade of eccentric denizens.
The genius of A Confederacy of Dunces is reaffirmed as successive generations embrace this extravagant satire. Adulation for Toole's comic epic remains as intense today as it was at the time of its initial publication.
About the Author
John Kennedy Toole was born in New Orleans in 1937 and died in 1969. After graduating from Tulane University, he received a master's degree from Columbia University and taught at Hunter College, the University of Southwestern Louisiana, and Dominican College. Much of the first draft of A Confederacy of Dunces was written while he was in the army, stationed in Puerto Rico and teaching English to new recruits.