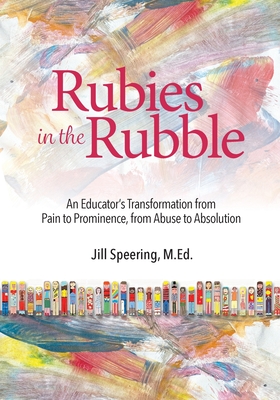 Rubies in the Rubble: From Pain to Prominence, From Abuse to Absolution
This product is not returnable.
Publication Date:
October 20th, 2021
Usually Ships in 1 to 5 Days
Description
There are many different paths in life that we can choose to follow. There are also circumstances where life imposes the only choice of acceptance. Rubies in the Rubble is the story of one woman's courage and commitment to accept her lot in life and bloom where she was planted.
For most of her existence, Jill Speering led a life of reacting to the trauma of abuse, shame, helplessness, and betrayal. As a small child, she and her family endured mental and physical violence from her father, a WWII veteran with issues of PTSD, a disorder in which a person has difficulty recovering after experiencing or witnessing a terrifying event. At home, Speering was a fighter and defender of her mother who endured constant verbal and physical attacks from her dad.
As a young student, Jill was imprinted with the belief that she was stupid and unable to learn. As a result, she felt inadequate and struggled to succeed. Failures continued to mount as her perseverance for achievement escalated.
As a young adult, Jill yearned for a life of balance in order to teach disenfranchised students and raise her own children productively in love. Although she struggled to gain employment in a saturated field of educators, she took a different path, secured advanced degrees, and became an exemplary educator for deprived students. However, she found herself limited by administrators in ways she never imagined. As a highly trained instructor of children and teachers, she often found herself at the whimsy of supervisors who had the ability to make choices which impacted her teaching, yet failed to serve children's full potential for learning. Throughout, she found herself striving for change in order to experience a more positive life for herself, her family, and her students.
Upon retirement, the author began to reflect on her efforts and conflicts, as she attempted to extrapolate meaning and insight from the history of her life to make decisions about her future. Her excavation of the unexplored miracles in her life magically led her on a journey, which transmuted her hatred into understanding and compassion.
Speering's Rubies in the Rubble is more than a memoir; it's a call to action for anyone who has ever felt helpless at the hands and will of a bully. It is a story of triumph over difficult circumstances and refusal to succumb to the aggression of a manipulative egomaniac more than willing to make personal attacks and create chaos where reason should clearly be the reigning motivation
This is a story of how we can look beyond the behavior of others in order to overcome trauma and adversity - to stand in conviction against a world of naysayers and condemnation - a story both vastly entertaining and poignant. It is a heart-racing story that you will be unable to put down. Rubies in the Rubble shows us how to stand firm in our convictions and how to either endure our path in life or to choose our own fork in the road of possibilities.