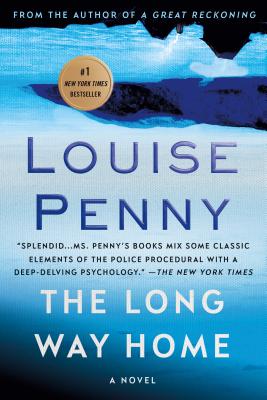 The Long Way Home: A Chief Inspector Gamache Novel
Publication Date:
July 28th, 2015
Publisher:
Minotaur Books
Usually Ships in 1 to 5 Days
Penny's 10th novel shows us a different side of Armand Gamache. He has retired from the Surete du Quebec, and he and his wife have moved to Three Pines so he can recover both mentally and physically. Not one to be long without a mystery to solve, Gamache agrees to investigate the disappearance of Peter Morrow, a neighbor and friend. Once again, Penny provides an intriguing puzzle but more importantly she offers another installment in the lives of those characters that I and countless other readers have come to love so well.
September 2014 Indie Next List
Description
A #1 New York Times Bestseller, Louise Penny's The Long Way Home is an intriguing Chief Inspector Gamache Novel.
Happily retired in the village of Three Pines, Armand Gamache, former Chief Inspector of Homicide with the Sûreté du Québec, has found a peace he'd only imagined possible. On warm summer mornings he sits on a bench holding a small book, The Balm in Gilead, in his large hands. "There is a balm in Gilead," his neighbor Clara Morrow reads from the dust jacket, "to make the wounded whole."
While Gamache doesn't talk about his wounds and his balm, Clara tells him about hers. Peter, her artist husband, has failed to come home. Failed to show up as promised on the first anniversary of their separation. She wants Gamache's help to find him. Having finally found sanctuary, Gamache feels a near revulsion at the thought of leaving Three Pines. "There's power enough in Heaven," he finishes the quote as he contemplates the quiet village, "to cure a sin-sick soul." And then he gets up. And joins her.
Together with his former second-in-command, Jean-Guy Beauvoir, and Myrna Landers, they journey deeper and deeper into Québec. And deeper and deeper into the soul of Peter Morrow. A man so desperate to recapture his fame as an artist, he would sell that soul. And may have. The journey takes them further and further from Three Pines, to the very mouth of the great St. Lawrence river. To an area so desolate, so damned, the first mariners called it the land God gave to Cain. And there they discover the terrible damage done by a sin-sick soul.
Praise for The Long Way Home: A Chief Inspector Gamache Novel
"Ms. Penny's books mix some classic elements of the police procedural with a deep-delving psychology, as well as a sorrowful sense of the precarious nature of human goodness, and the persistence of its opposite, even in rural Edens like Three Pines." —The New York Times
"Again and again, Louise Penny's Inspector Gamache series is Exhibit A for how to write a great crime novel, with each installment improving on the previous." —Sarah Weinman, National Post
"A counterintuitive and absorbing mystery from a superb author." —USA Today
"Penny, as always, creates a complex story about people dealing with complex emotional issues. And she does so with deeply drawn and ever-evolving characters, a sense of place that leaps from the pages and prose that invites multiple re-readings…A story that examines the making of art and the struggles of artists, The Long Way Home is itself a work of art, a novel that transcends genre, engages heart and mind and, like all of Penny's work, leaves the reader awestruck by the depth of her skills and the decency of her spirit." —Richmond Times-Dispatch
"Penny tells powerful stories of damage and healing in the human heart, leavened with affection, humor and – thank goodness – redemption." —The Charlotte Observer
"As with all the author's other titles, Penny wraps her mystery around the history and personality of the people involved. By this point in the series, each inhabitant of Three Pines is a distinct individual, and the humor that lights the dark places of the investigation is firmly rooted in their long friendships, or, in some cases, frenemyships. The heartbreaking conclusion will leave series readers blinking back tears." —Library Journal (starred review)
"Penny dexterously combines suspense with psychological drama, overlaying the whole with an all-powerful sense of landscape as a conduit to meaning...Another gem from the endlessly astonishing Penny." —Booklist (starred review)
"Perceptive . . . perfectly paced . . . Penny offers real insight into the evolution of artistic style as well as the envy that artists feel about each other's success . . . . The prose is remarkable fresh, filled with illumination and delightful turns of phrase." —Publishers Weekly
"Penny develops the story behind Peter's disappearance at a slow, masterful pace, revealing each layer of the mystery alongside an introspective glance at Gamache and his comrades, who can all sympathize with Peter's search for purpose. The emotional depth accessed here is both a wonder and a joy to uncover.." —Kirkus Reviews