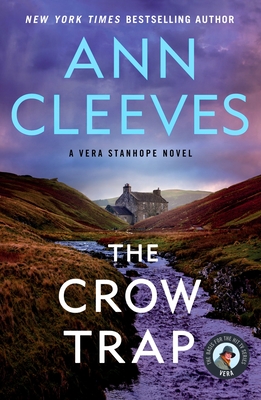 The Crow Trap: The First Vera Stanhope Mystery
Publication Date:
February 21st, 2017
Publisher:
Minotaur Books
Usually Ships in 1 to 5 Days
Description
From Ann Cleeves—New York Times bestselling and award-winning author of the Vera and Shetland series, both of which are hit TV shows—comes The Crow Trap, the first in the Vera Stanhope series.
"Ann Cleeves is one of my favorite mystery writers."—Louise Penny
Three very different women come together to complete an environmental survey on the Northumberland countryside. Three women who, in some way or another, know the meaning of betrayal....For team leader Rachael Lambert the project is the perfect opportunity to rebuild her confidence after a double-betrayal by her lover and boss, Peter Kemp. Botanist Anne Preece, on the other hand, sees it as a chance to indulge in a little deception of her own. And then there is Grace Fulwell, a strange, uncommunicative young woman with plenty of her own secrets to hide...
When Rachael arrives at the cottage, however, she is horrified to discover the body of her friend Bella Furness. Bella, it appears, has committed suicide--a verdict Rachael finds impossible to accept.
Only when the next death occurs does a fourth woman enter the picture--the unconventional Detective Inspector Vera Stanhope, who must piece together the truth from these women's tangled lives in The Crow Trap.
Praise for The Crow Trap: The First Vera Stanhope Mystery
"Fans of the Vera Stanhope novels already available in the U.S., as well as the TV series Vera, will welcome Cleeves's intricate series opener. The Columbo-esque Vera, who hides a fierce intelligence and razor sharp instincts under garish clothing, uses every tool at her disposal to solve the crime."--Publishers Weekly
"Trauma, obsession, and murder entwine in a suspense-packed crime story that puts Ms. Cleeves in the Rendell class." --Peterborough Evening Telegraph

"It's a dark, interesting novel with considerable emotional force behind it." --The Spectator
"Cleeves's softly, softly approach delivers a powerful punch." --The Observer
"I do love Vera!" --Val McDermid
"Nothing short of riveting." --Louise Penny
"Creates a dark enough mood to keep you straining to see what will come to light next." --People

"Gripping from start to finish." --Booklist
"In true Christie fashion, Cleeves once more pulls the wool over our eyes with cunning and conviction." --Colin Dexter
"Cleeves' taut, atmospheric thriller will keep readers guessing until the last page . . . Chilling." --Publishers Weekly (starred review)
"Intricate and engrossing . . . offers readers the pleasures of the traditional locked room/isolated island mystery." --Washington Post Book World
"Ann Cleeves is a skillful technician, keeping our interest alive and building slowly up to the denouement. Her easy use of language and clever story construction make her one of the best natural writers of detective fiction." —Sunday Express (UK)
If you're a fan of Frances Fyfield, Minette Walters, or Val McDermid, get to know Cleeves. —Globe and Mail (Canada)