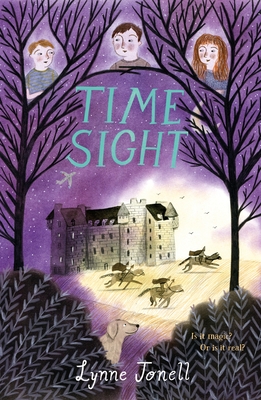 Time Sight
Publication Date:
January 1st, 2023
Description
Castles, battles, the ancient Scottish Highlands, and a boy who is determined to bring everyone safely home combine in Lynne Jonell's absorbing middle grade time-travel adventure, Time Sight.
Will's mother is in danger overseas, and his father must find her, so Will and his little brother are packed off to relatives in Scotland. Will feels useless. He can't save his mother. He can't help his father. And when he tries to amuse his brother on the plane ride, he can't even locate the images in Jamie's book—the hidden pictures that everyone else can see. Once at the family's ancestral castle, though, Will tries again. And as he delicately adjusts his focus, suddenly his eyes tune in to a different visual frequency—the past.
Looking back five hundred years is interesting . . . at first. But when Jamie impulsively leaps through the opening in time, Will and his cousin Nan must follow, into a past so dangerous that Will isn't sure how he will get everyone safely home.
Christy Ottaviano Books
About the Author
Lynne Jonell is the author of the novels Emmy and the Incredible Shrinking Rat, Emmy and the Home for Troubled Girls, and The Secret of Zoom, as well as several critically acclaimed picture books. Her books have been named Junior Library Guild Selections and a Smithsonian Notable Book, among numerous other honors. Born in Little Falls, Minnesota, Jonell grew up in a suburb of Minneapolis. She now teaches writing at the Loft Literary Center and lives with her husband and two sons in Plymouth, Minnesota, in a house on a hill.
Praise for Time Sight
"Vividly realized, rich in well-chosen details, and charming and thrilling and gross and cruel where appropriate. The historical chapters especially shine. Gripping and thoughtful; readers will be left pondering their own connections to the past."—Kirkus, starred review
"This is an atmospheric Scottish time travel story that accurately depicts facets of its history . . . An often entertaining read.—The Bulletin
"Jonell beguilingly entwines history and fiction in this sprawling time travel novel set at Menzies Castle in the Scottish Highlands."—Publishers Weekly

"Readers learn about the greatest hits of Scottish history: King James IV, the Roman invasion, and the Bronze Age. . . Give this to history buffs, fans of tales set in the UK, or even adult Outlander viewers who enjoy a good and wholesome read."—School Library Journal

"Most charmingly, anyone interested in Scottish language, heritage, and tradition will find these cultural details to be delightfully authentic throughout."—Booklist