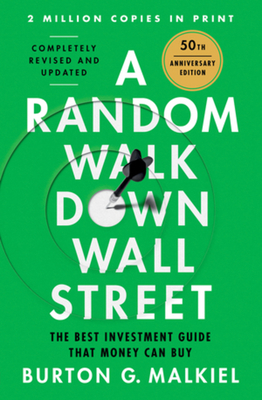 A Random Walk Down Wall Street: The Best Investment Guide That Money Can Buy
Publication Date:
January 3rd, 2023
Publisher:
W. W. Norton & Company
Usually Ships in 1 to 5 Days
Description
One of the "few great investment books" (Andrew Tobias) ever written, with 2 million copies in print.
In a time of rampant misinformation about ways of growing your money, Burton G. Malkiel's gimmick-free investment guide is more necessary than ever. Whether you're considering your first 401k contribution or contemplating retirement, the fully updated, fiftieth anniversary edition of A Random Walk Down Wall Street remains the best investment guide money can buy.
Drawing on his experience as an economist, financial adviser, and successful investor, Malkiel shows why an individual who saves consistently over time and buys a diversified set of index funds can achieve above-average investment results. He addresses current investment fads and critically analyzes cryptocurrencies, NFTs, and meme stocks. Malkiel reveals how to be a tax smart investor and how to make sense of recently popular investment management techniques, including factor investing, risk parity, and ESG portfolios.
Investors of every age, experience level, and risk tolerance will find the step-by-step guidance they need to protect and grow their dollars.
Praise for A Random Walk Down Wall Street: The Best Investment Guide That Money Can Buy
By now an investing classic, A Random Walk Down Wall Street has been updated to cover the many financial innovations (from exchange-traded funds to Ethereum) since it was first published. The book retains its author's trademark blend of erudition and wit—and his insistence that markets really are efficient.
— Daniel Akst - Wall Street Journal
Do you want to do well in the stock market? Here's the best advice. Scrape together a few bucks and buy Burton Malkiel's book. Then take what's left and put it in an index fund.
— Los Angeles Times
Talk to 10 money experts and you're likely to hear 10 recommendations for Burton Malkiel's classic investing book.
— Wall Street Journal
Not more than half a dozen really good books about investing have been written in the past fifty years. This one may well belong in the classics category.
— Forbes
A Random Walk has set thousands of investors on a straight path since it was first published in 1973. Even if you read the book then or more recently, a refresher course is probably in order.… A lucid mix of the theoretical and the pragmatic.
— Chicago Tribune
Almost every list of must-read investment books… includes Malkiel's Random Walk.
— Booklist
If one of your New Year's resolutions is to improve your personal finances, here's a suggestion: Instead of picking up one of the scores of new works flooding into bookstores, reread an old one: A Random Walk Down Wall Street.
— New York Times
An engagingly written and wonderfully argued tome.
— Money
Imagine getting a week-long lesson on investing from someone with the common sense of Benjamin Franklin, the academic and institutional knowledge of Milton Friedman and the practical experience of Warren Buffett. That's about what awaits you in the latest edition of this must-read by Burton Malkiel.
— Barron's
A must-read for any investor.
— Browser