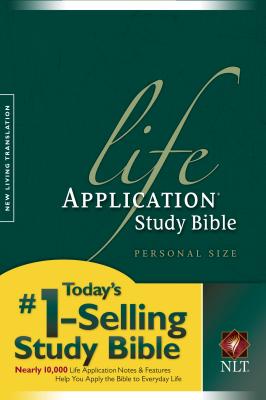 Life Application Study Bible-Nlt-Personal Size
Publication Date:
April 1st, 2005
Publisher:
Tyndale House Publishers
Description
The Life Application Study Bible is today's #1-selling study Bible.
The notes begin with helping the reader understand God's Word, then shows how to apply what God is teaching to everyday life. This Bible includes nearly 10,000 Life Application notes and features designed to help God's timeless truth become a personal truth for every reader.
Discover How You Can Apply the Bible to Your Life Today
Features:
Perfectly portable for your busy life
Nearly 10,000 Life Application(R) notes and features
Over 100 Life Application(R) profiles of key Bible people
Introductions and overviews for each book of the Bible
More than 400 maps & charts placed for quick reference
Dictionary/concordance
Extensive side-column cross-reference system to facilitate deeper study
Life Application(R) index to notes, charts, maps, and profiles
16 pages of full-color maps
Presentation page
Single-column format
Christian Worker's Resource, a special supplement to enhance the reader's ministry effectiveness
Full text of the Holy Bible, New Living Translation (NLT), combining the latest biblical scholarship with clear, natural English