Birds in a Book  (UpLifting Editions): Jacket Comes Off. Branches Pop Up. Display Like a Bouquet! (General merchandise)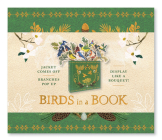 $16.99
Not in Our Store - Usually Ships in 1-5 Days
About the Author
---
Lesley Earle (a.k.a Lesley the Bird Nerd) posts bird-watching photography and videos on her YouTube channel and Facebook page. She resides in Corner Brook, Newfoundland.

Rachel Grant is an illustrator and pattern designer whose clients include Midwest CBK, Design House Greetings, The Boston Globe, Simple Things Magazine, and more. She lives in North Staffordshire, England.
CHECK OUT THIS INDIE FAVORITE!