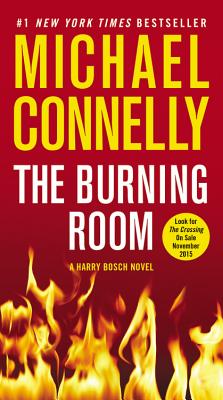 The Burning Room (A Harry Bosch Novel #17)
Publication Date:
October 27th, 2015
Usually Ships in 1 to 5 Days
Description
In this #1 New York Times bestseller, Detective Harry Bosch and his rookie partner investigate a cold case that gets very hot . . . very fast.
In the LAPD's Open-Unsolved Unit, not many murder victims die a decade after the crime. So when a man succumbs to complications from being shot by a stray bullet ten years earlier, Bosch catches a case in which the body is still fresh, but any other clues are virtually nonexistent. Even a veteran cop would find this one tough going, but Bosch's new partner, Detective Lucia Soto, has no homicide experience. A young star in the department, Soto has been assigned to Bosch so that he can pass on to her his hard-won expertise.
Now Bosch and Soto are tasked with solving a murder that turns out to be highly charged and politically sensitive. Beginning with the bullet that has been lodged for years in the victim's spine, they must pull new leads from years-old evidence, and these soon reveal that the shooting was anything but random.
As their investigation picks up speed, it leads to another unsolved case with even greater stakes: the deaths of several children in a fire that occurred twenty years ago. But when their work starts to threaten careers and lives, Bosch and Soto must decide whether it is worth risking everything to find the truth, or if it's safer to let some secrets stay buried.
In a swiftly-moving novel as relentless and compelling as its hero, Michael Connelly shows once again why Harry Bosch is "one of the most popular and enduring figures in American crime fiction" (Chicago Tribune).
Praise for The Burning Room (A Harry Bosch Novel #17)
"This is the finest crime series written by an American....There are few fictional characters we know so well; Harry is an old friend now."—Patrick Anderson, Washington Post
"Bosch has become one of the most popular and enduring figures in American crime fiction."—Kevin Nance, Chicago Tribune
"The Black Echo introduced Connelly as the heir apparent to Raymond Chandler and also helped usher in a new approach to the police procedural. Now, twenty years later, Connelly is still writing about Harry Bosch, continuing to discover new layers to this now iconic character with increasingly complex and believable plots....Connelly makes him a fresh and original character each outing."—Oline H. Cogdill, Miami Herald
"Bosch has become Mr. Connelly's most durable, well-entrenched creation."—Janet Maslin, New York Times
"Connelly proves again that neither he nor Bosch has lost his touch."—Christian DuChateau, CNN
"Harry Bosch is as formidable as he ever was."—Sherryl Connelly, New York Daily News
"Connelly's writing is like the best flavor of ice cream: reliably delicious every time."—Jeff Ayers, Associated Press