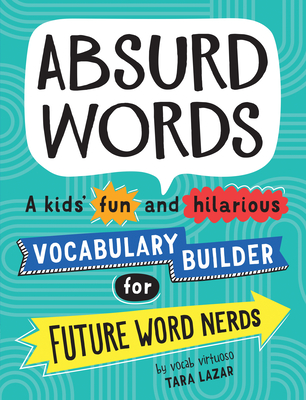 Absurd Words: A kids' fun and hilarious vocabulary builder for future word nerds
Publication Date:
January 2nd, 2022
Publisher:
Sourcebooks Explore
Usually Ships in 1 to 5 Days
Description
Why use boring old words when you can expand and build your vocabulary—and have fun doing it! A user-friendly, engaging book about the power of words—perfect for educators, parents, and future word nerds. Build confidence and become a stronger reader, writer, and communicator!
This fun and hilarious vocabulary builder:
Includes over 750 high-level, wondrous, and wacky words!
With sample sentences and word history that help new words make sense!
Bright and fun illustrations make learning new words fun!
Allows to search by category so new word choices are easy to find!
Kids with strong vocabularies are better readers, better writers, and even feel more confident tackling math and science. When a kid wants to learn a new word, we often send them to the dictionary or a thesaurus. But dictionaries only work if you know exactly the word you want. This dictionary-thesaurus hybrid is organized by theme and puts words in context with fun, engaging and hilarious sentences, pictures, and fun facts. You'll learn what words mean and then actually use them!
Praise for Absurd Words: A kids' fun and hilarious vocabulary builder for future word nerds
"A razzle-dazzle roster of locutions sufficient to warm the heartstrings of any logophile." — Kirkus Reviews
"A must have for library classrooms... A fun and kinetic title that will have readers using vocabulary that will astound listeners!  " — Youth Services Book Review, STARRED
"Word nerds are going to love this book!" — School Library Connection
"...playful fun. Huzzah!" — Booklist
"...exuberant, lighthearted, and friendly" — Youth Services Book Review
"My favorite new vocabulary book... " — Imagination Soup