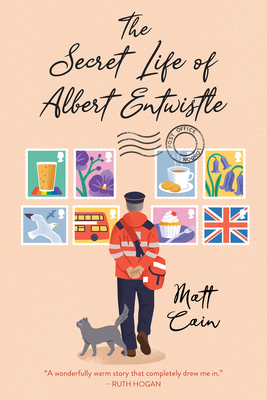 The Secret Life of Albert Entwistle: An Uplifting and Unforgettable Story of Love and Second Chances
Publication Date:
May 31st, 2022
Publisher:
A John Scognamiglio Book
Usually Ships in 1 to 5 Days
A heartfelt tale of a shy 64-year-old English postman on the verge of retirement and on the verge of coming out. Albert's obstacles are significant, which make his efforts to surmount them, and to find new friends, all the more joyous.
June 2022 Indie Next List
Description
"This rollicking romance entrapped me! True in its detail and its scope, it is amusing yet heart-breaking." —Ian McKellen
Perfect for fans of Fredrik Backman and TJ Klune, this humorous, life-affirming, and charmingly wise novel tells the story of how the forced retirement of a shy, closeted postman in northern England creates a second chance with his lost love, as he learns to embrace his true self, connect with his community, and finally experience his life's great adventure…
Indie Next List Selection | Library Reads Selection
Every day, Albert Entwistle makes his way through the streets of his small English town, delivering letters and parcels and returning greetings with a quick wave and a "how do?" Everyone on his route knows Albert, or thinks they do—a man of quiet routines, content to live alone with his cat, Gracie.
 
Three months before his sixty-fifth birthday, Albert receives a letter from the Royal Mail thanking him for decades of service and stating that he is being forced into retirement. At once, Albert's simple life unravels. Without the work that fills his days, what will he do? He has no friends, family, or hobbies—just a past he never speaks of, and a lost love that fills him with regret. And so, rather than continue his lonely existence, Albert forms a brave plan to start truly living, to be honest about who he is . . . and to find George, the man with whom he spent one perfect spring and summer long ago.
 
One painful yet exhilarating step at a time, Albert begins searching for George and revealing his story to those around him. As he does, something extraordinary happens. Albert finds unlikely allies, new friends, and the courage to help others—even as he seeks the happiness he's always denied himself.
 
Beautifully written, funny, and wise, The Secret Life of Albert Entwistle is a book to fall in love with and to be inspired by, one that proves it is never too late to live, to hope, and to love.
A Note from Matt Cain, the author of The Secret Life of Albert Entwistle:
"One of the things that inspired me to write this novel was all the joy I felt at seeing gay men like myself being embraced by British society. I think you'd be hard-pushed to find any other minority community in the UK that was as hated, feared and vilified as gay men were fifty years ago and is now as widely celebrated and loved. Acceptance of gay men has become a touchstone of British values within less than a decade, something that even the most optimistic commentators couldn't have predicted. I wanted to write a book that would celebrate this. And I sincerely hope The Secret Life of Albert Entwistle makes its readers feel good about themselves and the part they've played in bringing about this extraordinary social shift." —Matt Cain
Praise for The Secret Life of Albert Entwistle: An Uplifting and Unforgettable Story of Love and Second Chances
Outstanding praise for Matt Cain and The Secret Life of Albert Entwistle
"This rollicking romance entrapped me! True in its detail and its scope, it is amusing yet heart-breaking."
—Sir Ian McKellen
 
"A charming adventure with love at its heart." 
—My Weekly
 
"A heart-warming, joyous love story—original, hopeful and totally charming."  
—Adele Parks, author of Both of You
 
"Albert is the most delicious character and you'll be with him every step of the way."' 
—The Sun
"Wonderful. Written with such a good heart, filled with joy and strength and optimism . . . inventive and fun but most importantly, true." 
—Russell T. Davies, creator of It's a Sin
 
"A life affirming story of lost love."
—That's Life