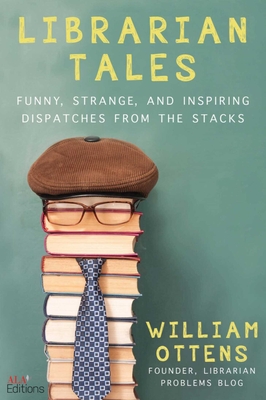 Librarian Tales: Funny, Strange, and Inspiring Dispatches from the Stacks
Publication Date:
September 15th, 2020
Description
Published in cooperation with the American Library Association, an insider's look at one of the most prevalent, yet commonly misunderstood institutions!
Here is the good, the bad, and the ugly of librarian William Ottens's experience working behind service desks and in the stacks of public libraries, most recently at the Lawrence Public Library in Kansas. In Librarian Tales, published in cooperation with the American Library Association, readers will learn about strange things librarians have found in book drops, weird and obscure reference questions, the stress of tax season, phrases your local librarians never want to hear, stories unique to children's librarians, and more.
Ottens uncovers common pet peeves among his colleagues, addresses misguided assumptions and stereotypes, and shares several hilarious stories along the way. This book is must reading for any librarian, or anyone who loves books and libraries, though non-library folks will also laugh and cry (from laughing) while reading this lighthearted analysis of your local community pillar, the library.
Praise for Librarian Tales: Funny, Strange, and Inspiring Dispatches from the Stacks
"In this delightful book, Ottens pulls back the cover of library life and the magic and mayhem found within. Librarians will recognize themselves in these wonderful stories, while readers will gain a greater appreciation for their favorite local library." - Jill Grunenwald, author of Reading Behind Bars: A True Story of Literature, Law, and Life as a Prison Librarian
 
"William Ottens's Librarian Tales is equal parts Librarian 101 and observational comedy. Ottens's sharply observed book chronicles his journey as a librarian through setbacks, absurdities, and eventual stability. While Otten'ss voice is at the center of this amusing book, interviews and comments from the influential Librarian Problems Facebook page create a polyphony of charming Librarian voices, all passionate about this important profession, warts and all. This clever and welcoming book is perfect for anyone looking to enter the librarian field, and anyone who's already in love with libraries."
-Danny Caine, owner of Raven Book Store
"A warm and honest look at what really happens in the public library. Anytime a library worker is asked, "What do you do all day, read?" immediately check this book out to the patron—no fines, no due date."
-Kaite Stover, Director of Reader's Services for The Kansas City Public Library