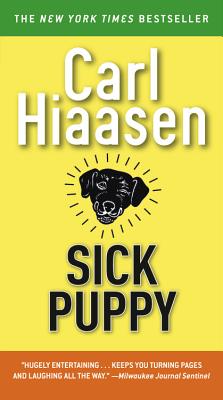 Sick Puppy
Publication Date:
July 31st, 2018
Publisher:
Grand Central Publishing
Usually Ships in 1 to 5 Days
Description
The New York Times bestselling novel in which an eco-terrorist with anger-management issues takes on environmental irresponsibility - now reissued with a new author's note.
An eco-terrorist with a trust fund, Twilly Spree is tailing a litterbug in a purple Range Rover with plates that read COJONES. Before he knows it, Spree is up to his cojones in corrupt Florida politicos and some very sick puppies, including a Toyota salesman turned governor, a Republicans-only hooker, and a millionaire developer with a fetish for Barbies. But when Spree learns that the fate of an unspoiled island is at stake, he's determined not to be outdone. While defending the toads of Toad Island-not to mention one cheerfully oblivious Labrador-he'll steal a man's wife, gouge out the eyes of big game trophies, and even risk his life two or three times in this, Hiaasen's most gleeful muckraking story yet.
About the Author
Carl Hiaasen was born and raised in Florida. He is the author of nineteen novels, including Skinny Dip, Sick Puppy, Stormy Weather, Basket Case, and, for young readers, Flush and Hoot. He also writes a regular column for the Miami Herald.
Praise for Sick Puppy
"Delights...begins with an absurd premise and then gets even nuttier."
—New York Times Book Review
"Laugh-out-loud funny."
—Detroit News-Free Press
"From start to finish, SICK PUPPY is a howl."
—New York Post