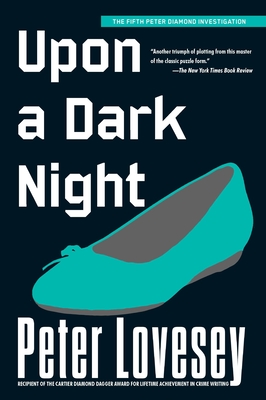 Upon a Dark Night (A Detective Peter Diamond Mystery #5)
Publication Date:
June 1st, 2005
Description
"The threads of Peter Lovesey's new Peter Diamond mystery, Upon a Dark Night, twist up so neatly they make a perfect hangman's noose—another triumph of plotting from this master of the classic puzzle form."—The New York Times Book Review 
A young woman is dumped, injured and unconscious, in a private hospital's parking lot. She is an amnesiac with no memory prior to her discovery by hospital personnel. Detective Inspector Peter Diamond of the Bath homicide squad is unwilling to become involved. He has other, more important cases to solve: A woman has plunged to her death from the roof of a local landmark while half the young people of Bath partied below, and an elderly farmer has shot himself. Are these apparent suicides what they seem, or are there sinister forces at work? And might the amnesiac woman hold the key to both cases?
Praise for Upon a Dark Night (A Detective Peter Diamond Mystery #5)
Crime Writers' Association Diamond Dagger for Lifetime Achievement Recipient
Mystery Writers of America 2018 Grandmaster
Praise for Upon a Dark Night
"The threads of Peter Lovesey's new Peter Diamond mystery, Upon a Dark Night, twist up so neatly they make a perfect hangman's noose—another triumph of plotting from this master of the classic puzzle form."
—Marilyn Stasio, The New York Times Book Review
"Lovesey is . . . master of the traditional crime novel."
—Publishers Weekly, Starred Review
"The characters are complex and well-drawn, the plot intricate but credible, the story well-told and the puzzles neatly tied up by the end."
—Pittsburgh Post-Gazette
"An extraordinary combination of classic puzzle with a contemporary police procedural; an immensely satisfying work by one of Britain's foremost mystery novelists."
—Houston Chronicle
"Lovesey's latest Peter Diamond novel offers everything a fan of classic detective fiction could want."
—Booklist

Praise for The Peter Diamond series
"Peter Diamond is impatient, belligerent, cunning, insightful, foul, laugh-out-loud funny . . . A superb series."
—Louise Penny
 
"I'm jealous of everyone discovering Lovesey and Diamond for the first time—you have a wonderful backlist to catch up on. Me, all I can do is wait for the next book."
—Sara Paretsky
 
"What'll it be today? A knotty puzzle mystery? A fast-paced police procedural? Something more high-toned, with a bit of wit? With the British author Peter Lovesey, there's no need to make those agonizing decisions, because his books have it all."
—The New York Times Book Review
 
"Mr. Lovesey's narrative is swift, but he takes time out for local color and abundant humor, the latter springing from the book's quirky characters . . . Lovesey is a wizard at mixing character-driven comedy with realistic-to-grim suspense. And in a writing career spanning four decades, he has created a stylish and varied body of work."
—The Wall Street Journal
 
"Next to Jane Austen, Peter Lovesey is the writer the tourist board of Bath, England, extols most proudly . . . The enduring draw of the Peter Diamond books derives both from the beguiling Bath cityscape and the brusque character of Diamond himself."
—NPR