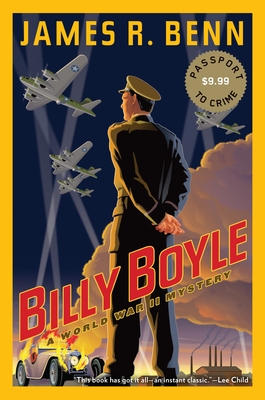 Billy Boyle (A Billy Boyle WWII Mystery #1)
Publication Date:
August 13th, 2013
Usually Ships in 1 to 5 Days
Description
What's a twenty-two-year-old Irish American cop who's never been out of Massachusetts before doing at Beardsley Hall, an English country house, having lunch with King Haakon of Norway? Billy Boyle himself wonders. Back home in Southie, he'd barely made detective when war was declared. Unwilling to fight—and perhaps die—for England, he was relieved when his mother wangled a job for him on the staff of a general married to her distant cousin. But the general turns out to be Dwight D. Eisenhower, whose headquarters are in London, which is undergoing the Blitz. And Uncle Ike wants Billy to be his personal investigator. 
  
Billy is dispatched to the seat of the Norwegian government in exile. Operation Jupiter, the impending invasion of Norway, is being planned, but it is feared that there is a German spy amongst the Norwegians. 
  
Billy doubts his own abilities, with good reason. A theft and two murders test his investigative powers, but Billy proves to be a better detective than he or anyone else expected.
Praise for Billy Boyle (A Billy Boyle WWII Mystery #1)
Praise for the Billy Boyle series

"This book has got it all—an instant classic."
—Lee Child
"Spirited wartime storytelling."
—The New York Times Book Review

"A meaty, old-fashioned, and thoroughly enjoyable tale of WWII-era murder and espionage."
—The Seattle Times

"A fascinating mystery with the sensibility of a World War II movie."
—Sacramento News & Review
"It is a pleasure marching off to war with the spirited Billy Boyle. He is a charmer, richly imagined and vividly rendered, and he tells a finely suspenseful yarn."
—Dan Fesperman

"The series as a whole is the best set of wartime novels since those of the legendary Nevil Shute."
—BookPage
"One of the best books I've read this year."
—Mystery Scene

"The sense of place is sensational, a wonderful backdrop to this complex and intriguing story."
—Mystery News