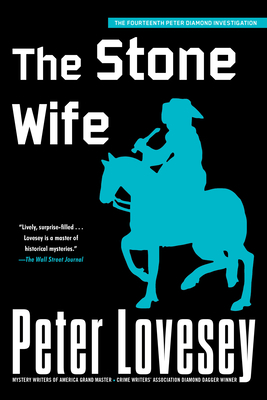 The Stone Wife (A Detective Peter Diamond Mystery #14)
Publication Date:
June 9th, 2015
Description
"[W]onderful tidbits of Chaucerian scholarship enliven the novel. And whatever you think of Peter Diamond, he proves himself a 'verray, parfit, gentil knyght.'" —The New York Times Book Review
At a Bath auction house, a large slab of carved stone is up for sale. At the height of very competitive bidding, there is a holdup attempt by three masked robbers. They shoot and kill the highest bidder, a professor who has recognized the female figure carved in the stone as Chaucer's Wife of Bath. The masked would-be thieves flee, leaving the stone behind.
Peter Diamond and his team are assigned to investigate, and the stone is moved into Diamond's office so he can research its origins. The carving causes such difficulties that he starts to think it has jinxed him. Meanwhile, as Diamond's leads take him to Chaucer's house in Somerset, his intrepid colleague Ingeborg goes undercover to try to track down the source of the handgun used in the murder.
Praise for The Stone Wife (A Detective Peter Diamond Mystery #14)
Crime Writers' Association Diamond Dagger for Lifetime Achievement Recipient
Mystery Writers of America 2018 Grandmaster
Recipient of the 2014 Strand Lifetime Acheivement Award
Praise for The Stone Wife

A Deadly Pleasures Best Book of 2014

"[W]onderful tidbits of Chaucerian scholarship enliven the novel. And whatever you think of Peter Diamond, he proves himself a 'verray, parfit, gentil knyght.'"
—The New York Times Book Review
"Lively, surprise-filled . . . Peter Lovesey is himself a master of historical mysteries."
—Wall Street Journal
"Diamond's short temper and quirky investigative tactics are pleasing, and readers familiar with English literature are sure to love all the Chaucerian allusions."
—Shelf Awareness
"As always, this character and his team are sharp, funny, and grab the reader's attention from beginning to end!"
—Suspense Magazine
"Lovesey once again proves himself a master plotter and one of the most entertaining writers in the field."
—Alfred Hitchcock Mystery Magazine
"The characters are brilliantly drawn . . . this entertaining police procedural-style mystery is another example of why this series is so popular with readers."
—Mysterious Reviews
"Nobody writes better crime fiction than Peter Lovesey." 
—Deadly Pleasures
"The Stone Wife is a beautifully written novel that catches you from the very beginning. Putting The Stone Wife down for any length of time is not an option . . . once you start it you have to finish."
—Fresh Fiction
"This fourteenth in the series is filled with red herrings, plot complications, deception and fascinating characters, all the components which make for a good read . . . humor is rampant throughout. Very highly recommended."
—I Love a Mystery 
"Peter Lovesey's nicely paced British crime fiction takes the old-fashioned taste for classic Agatha Christie, and updates it with quirky humor and just enough staff friction to make Chief Superintendent Peter Diamond tear out a bit more hair. [A] stylish series."
—Kingdom Books
"One of the great things about reading one of Lovesey's police procedurals starring Chief Superintendent Peter Diamond of the Bath CID is the natural way Diamond's cases take the reader into the history of Bath itself. Lovesey's latest is filled with details . . . riveting. If you've never encountered Diamond before, this is a good place to start."
—Booklist, Starred Review
"This is a 100 per cent win from Lovesey, who proves an embarrassment of authorial riches by managing to keep the plot propulsive, the dialog pithy, the cops' jokes and good humor strong, and the characters easily identifiable. A great procedural whodunnit with an interesting maguffin. This is the 14th book in the "Peter Diamond" series, and it's enough to make readers flip back through the previous 13."
—Library Journal 
"Dogged police work, nasty revelations about respectable citizens, dollops of suspense, Chaucerian tidbits—all the pleasures you expect from much-honored Lovesey are here."
—Kirkus Reviews
"[Chief Supt. Peter Diamond] is irascible but endearing." 
—Publishers Weekly

"[P]rovides interesting bits of history about Chaucer, Brunel, Bristol, and Bath…plenty of excitement."
—Gumshoe Review
"With more violence than we normally associate with Lovesey, this is well up to his high standard of storytelling. It will hold you to the deckchair even if the sun is not shining."
—Daily Mail (UK)
Praise for the Peter Diamond Series

"Peter Diamond is impatient, belligerent, cunning, insightful, foul, laugh-out-loud funny . . . A superb series."
—Louise Penny
 
"I'm jealous of everyone discovering Lovesey and Diamond for the first time—you have a wonderful backlist to catch up on. Me, all I can do is wait for the next book."
—Sara Paretsky
 
"What'll it be today? A knotty puzzle mystery? A fast-paced police procedural? Something more high-toned, with a bit of wit? With the British author Peter Lovesey, there's no need to make those agonizing decisions, because his books have it all."
—The New York Times Book Review
 
"Mr. Lovesey's narrative is swift, but he takes time out for local color and abundant humor, the latter springing from the book's quirky characters . . . Lovesey is a wizard at mixing character-driven comedy with realistic-to-grim suspense. And in a writing career spanning four decades, he has created a stylish and varied body of work."
—The Wall Street Journal
 
"Next to Jane Austen, Peter Lovesey is the writer the tourist board of Bath, England, extols most proudly . . . The enduring draw of the Peter Diamond books derives both from the beguiling Bath cityscape and the brusque character of Diamond himself."
—NPR