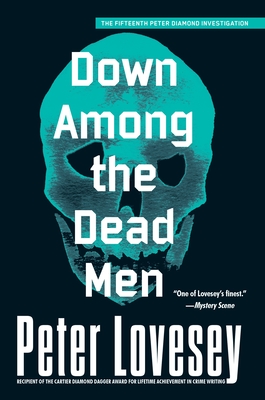 Down Among the Dead Men (A Detective Peter Diamond Mystery #15)
Publication Date:
June 14th, 2016
Detective Superintendent Peter Diamond has been called off his current case load to join his boss, Assistant Chief Constable Georgina Dallymore, on an internal investigation. A detective is accused of failing to follow up on DNA evidence that could link her niece to a murder. It's an ethical violation case, but the evidence came to light three years ago and only now is she being accused. Diamond expects that more is happening than meets the eye. Meanwhile, a teacher from a private girls' school has gone missing and now the schoolgirl who was looking for her has disappeared as well. It's going to take a bit of doing to unravel what is happening in Sussex. If you've never read an Inspector Diamond book, this one is a great place to start.
July 2015 Indie Next List
Description
"What'll it be today? A knotty puzzle mystery? A fast-paced police procedural? Something more high-toned, with a bit of wit? With the British author Peter Lovesey, there's no need to make those agonizing decisions, because his books have it all." —The New York Times Book Review
In a Sussex town on the south coast of England, a widely disliked art teacher at a posh private girls' school disappears without explanation. None of her students miss her boring lessons, especially since her replacement is a devilishly hunky male teacher with a fancy car. But then her name shows up on a police missing persons list. What happened to Miss Gibbon, and why does no one seem to care?
Peter Diamond has been sent to Sussex on a Home Office internal investigation to look into breach of conduct by a fellow police officer—a failure to process DNA evidence related to a cold case. As he asks questions, he begins to notice unsettling connections between the cold case and the missing art teacher. Could the two mysteries be connected? How many other area disappearances have gone unnoticed and uninvestigated? Diamond and his hapless supervisor have stumbled into a web of related crimes. Will Diamond be able to disentangle them?
Praise for Down Among the Dead Men (A Detective Peter Diamond Mystery #15)
Crime Writers' Association Diamond Dagger for Lifetime Achievement Recipient
Mystery Writers of America 2018 Grandmaster

Praise for Down Among the Dead Men 
A New York Times Best Crime Novel of 2015
July 2015 IndieNext Selection
"What'll it be today? A knotty puzzle mystery? A fast-paced police procedural? Something more high-toned, with a bit of wit? With the British author Peter Lovesey, there's no need to make those agonizing decisions, because his books have it all."
—The New York Times Book Review
"[A] strikingly classy whodunit."
—Morning Star
"[Lovesey is] a nimble standard-bearer for the whodunit tradition that goes back to the Golden Age of detective fiction . . . a cunning logic puzzle, a devilishly inspired bit of story crafting."
—Richmond Times-Dispatch
"Lovesey takes seemingly incongruous story lines and ties them tidily together."
—Dayton Daily News 
"Lovesey not only spins a satisfying whodunit—there's a contemporary case as a subplot, too—but continues to develop the complicated, intriguing relationship between Diamond and his boss, Assistant Chief Constable Georgina Dallymore."
—The Strand Magazine
"One of Lovesey's finest."
—Mystery Scene
"Lovesey's plotting is smart, his style engaging and drily funny."
—Ellery Queen Mystery Magazine
"Lovesey is a masterful plotter, and that alone would earn him praise and fans, but his characters are memorable, and Diamond is a glittering gem among them. In addition to those strengths Lovesey adds wit, humor, and finely structured prose."
—Alfred Hitchcock Mystery Magazine
"Peter Lovesey's Down Among the Dead Men gives us Diamond at his best."
—Open Letters Monthly
"This is the kind of clever, densely packed puzzle we don't see much of these days. It's engrossing, well-written and original."
—The Buffalo News
"Peter Lovesey is a marvel. If you love or even like mysteries, he needs to be at the top of your must-read list."
—Bookreporter
"Lovesey is in top form in Down Among the Dead Men . . . A fascinating read. Great plotting and exciting action."
—Fresh Fiction 
"Peter Lovesey is back with a winner . . . When you finish reading Down Among the Dead Men, you'll have a smile on your face, knowing that you've just been given a lesson in deduction by a master."
—Kittling Books
"[A] novel of engaging prose, intriguing and credible plot, and believable characters with a likable lead. In Down Among the Dead Men, Lovesey delivers a fine read."
—New York Journal of Books
"Diamond is a wonderfully rounded character whose lines are witty and whose observations about people's characters and motives are brilliantly insightful. Vintage Diamond mystery, spiced by his comic encounters with his supervisor: a must for devotees of character-driven British crime fiction."
—Booklist, Starred Review
"Dallymore and Diamond illustrate that good cops and intriguing mysteries can go together. Ideal for those who prefer cerebral rather than graphic whodunits."
—Library Journal
Praise for the Peter Diamond Series
"Peter Diamond is impatient, belligerent, cunning, insightful, foul, laugh-out-loud funny . . . A superb series."
—Louise Penny
 
"I'm jealous of everyone discovering Lovesey and Diamond for the first time—you have a wonderful backlist to catch up on. Me, all I can do is wait for the next book."
—Sara Paretsky
 
"What'll it be today? A knotty puzzle mystery? A fast-paced police procedural? Something more high-toned, with a bit of wit? With the British author Peter Lovesey, there's no need to make those agonizing decisions, because his books have it all."
—The New York Times Book Review
 
"Mr. Lovesey's narrative is swift, but he takes time out for local color and abundant humor, the latter springing from the book's quirky characters . . . Lovesey is a wizard at mixing character-driven comedy with realistic-to-grim suspense. And in a writing career spanning four decades, he has created a stylish and varied body of work."
—The Wall Street Journal
 
"Next to Jane Austen, Peter Lovesey is the writer the tourist board of Bath, England, extols most proudly . . . The enduring draw of the Peter Diamond books derives both from the beguiling Bath cityscape and the brusque character of Diamond himself."
—NPR