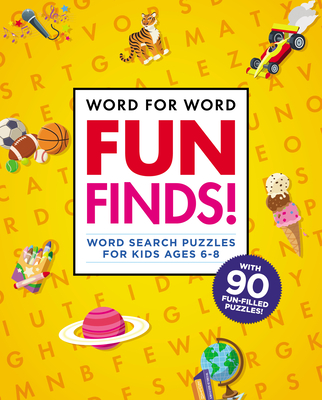 Word for Word: Fun Finds!: Word Search Puzzles for Kids ages 6-8 (Word for Word Crosswords)
Publication Date:
August 13th, 2019
Publisher:
Rockridge Press
Usually Ships in 1 to 5 Days
Description
Find the fun in learning vocabulary with word search puzzles for kids ages 6 to 8
Look no further for fun! Word for Word: Fun Finds! is the ultimate word search for kids, putting their brains to the test to hunt for words around themes like ice cream, cartoon characters, animals, and lots more. These puzzles are an engaging way to grow vocabulary, improve spelling, and build word association. Kids will look up, down, left, right, and all around as they search for the answers hidden in every page!
Fascinating facts—Explore educational topics like historical heroes, planets, and dinosaurs along with appealing pop culture references.
90 Fun puzzles—Discover pages packed with puzzles that feature hidden words, rhymes, riddles, wordplay, and more.
Brain boosters—The puzzles in this word search for kids slowly increase in difficulty, encouraging them to tackle challenges and learn new words.
Have lots of fun looking and learning with this vocabulary-building choice in puzzle books.
Praise for Word for Word: Fun Finds!: Word Search Puzzles for Kids ages 6-8 (Word for Word Crosswords)
"My 6-year old grandson has just entered the first grade, and he loves word puzzles, so he has really been spending a lot of time with this book. It seems to be great for brain development and learning vocabulary and spelling. Fortunately, if he gets stumped, the answers can be found in the back of the book."—Buddy S.
"The word for word book is perfect for a break from tablets, Kindles, and other electronic equipment. Some of the pages are challenging to [my kids], which is a good thing, and once they got the hang of it, they loved it."—J. Stroh
"My kiddo is going into the 2nd grade, and this is helping her with spelling and expanding her vocabulary! She wanted a crossword book just like Grandpa has, so this was perfect! Each puzzle has a different theme (so far her favorites have been the ice cream & happy birthday ones), so it keeps her interested."—Vanessa D.