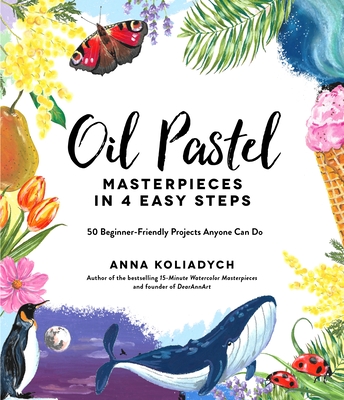 Oil Pastel Masterpieces in 4 Easy Steps: 50 Beginner-Friendly Projects Anyone Can Do
Publication Date:
July 5th, 2022
Publisher:
Page Street Publishing
Usually Ships in 1 to 5 Days
Description
Breathtaking, Vibrant, Simple—Your Must-Have Guide to Everything Oil Pastels
Master the art of creating stunning oil pastel drawings under the guidance of Anna Koliadych, the creator of DearAnnArt and the bestselling author of 15-Minute Watercolor Masterpieces. Let her walk you through 50 gorgeous, four-step projects and teach you all the must-know oil pastel tips and techniques you need to create vivid landscapes, botanicals, cute animals and more.
Revel in dozens of beautiful projects that will spark your creativity. Try your hand at recreating the Aurora Borealis, or draw a breathtaking Magical Lightning landscape. Compose some Autumn Forest Mushrooms, a Blooming Sakura or even a Fluffy Sheep. And with only four steps, every project is assured to be a breeze. Each step is also accompanied by a photo, so you can effortlessly follow along! Anna's experience as an art educator makes it easy for beginners to jump right in, and her expertise guarantees that even pros will find something new to learn.
With straightforward, no-fluff directions and dozens of projects to inspire you, you'll work your way from novice to master in a matter of pages.
Praise for Oil Pastel Masterpieces in 4 Easy Steps: 50 Beginner-Friendly Projects Anyone Can Do
"Anna's book conveys pure joy and relaxation. With her popular, unique and easy-to-follow teaching style you will be able to draw with oil pastels in no time!" —MONICA SCHICK, founder of Schimoni Art Brushes
"Even those who are using oil pastels for the first time will be able to learn step by step with Anna's guidance." —HYUNSEON KU, author of Drawing Flowers: Oil Pastel Coloring Book for Adults
"Only Anna can inspire you to learn a new medium and also teach you how to create magic in four easy steps. The new book is a whole new colorful world, where Anna generously shares her experience of creating beautiful masterpieces with her unconditional love for art." — NATALIA NAZARIAN, founder of NataNazarian Creative Studio