Staff Pick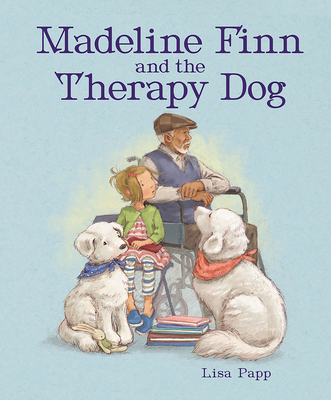 Madeline Finn and the Therapy Dog
Publication Date:
September 1st, 2020
Usually Ships in 1 to 5 Days
Staff Reviews
With beautiful illustrations and a sweet message about patience and caring, Madeline Finn and the Therapy Dog is an awesome picture book for kids 4-8 years old. This is the third "Madeline Finn" book (previous were the Library Dog and the Shelter Dog). In this one, little Madeline helps her dog train to visit nursing home residents and learns that some people need more time to make friends.
— Serena
Description
Madeline Finn is training her dog Star to become a therapy dog. Will they pass the test? A beautiful story of empathy, perseverance, and community from Lisa Papp.
Madeline Finn and Star are off to Walker Oaks, a retirement community where Star will take his tests to become a therapy dog. Accompanied by Mom, Mrs. Dimple, and Bonnie the library dog, Madeline and Star make their way through a variety of challenges and meet several new friends.
But Madeline Finn can't stop thinking about an elderly man in a wheelchair who never smiles. Is there something she and Star can do to help?
Author-illustrator Lisa Papp's empathetic, feel-good story explores the therapy dog training process and provides a realistic and appealing example of a young person making a difference. Paired with warm, gentle illustrations, this book is ideal for social emotional learning and discussions about self-esteem, volunteering, community, and—of course—therapy animals.
Praise for Madeline Finn and the Therapy Dog
"Charming, soft-focus illustrations provide extra details and capture the personalities of the determined child and irresistible dogs. . . . This touching story stands on its own, but fans of Madeline's previous outings will particularly enjoy reading this account that ties all the previous tales together. A gentle, heartwarming introduction to the world of therapy dogs."—Kirkus Reviews
★ "A beautifully designed introduction to the lives of therapy dogs and how much work goes into becoming one. A backdrop of warm tan surrounds each image; this, coupled with soft purples, blues, and greens, lends a sense of familiarity and comfort to the story. Pencil lines and watercolor enhance this feeling, nonverbally communicating the effect a therapy dog has on the people he meets. . . . This intergenerational story of love and acceptance is an important addition to ¬library collections for young -elementary-aged ¬readers." —School Library Journal, Starred Review