Farmers Unite!: Planting a Protest for Fair Prices (Hardcover)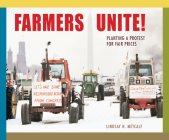 $18.99

Out of Stock - Please contact store for availability and price
Description
---
• A NCSS/CBC Notable Social Studies Trade Book

In the late 1970s, grain prices had tanked, farm auction notices filled newspapers, and people had forgotten that food didn't grow in grocery stores. So, on February 5, 1979, thousands of tractors from all parts of the US flooded Washington, DC, in protest.

Author Lindsay H. Metcalf, a journalist who grew up on a family farm, shares this rarely told story of grassroots perseverance and economic justice. In 1979, US farmers traveled to Washington, DC to protest unfair prices for their products. Farmers wanted fair prices for their products and demanded action from Congress. After police corralled the tractors on the National Mall, the farmers and their tractors stayed through a snowstorm and dug out the city. Americans were now convinced they needed farmers, but the law took longer. Boldly told and highlighted with stunning archival images, this is the story of the struggle and triumph of the American farmer that still resonates today.
About the Author
---
Lindsay H. Metcalf has covered many change-makers as a reporter, editor, and columnist for The Kansas City Star and other news outlets. She is a co-editor of No Voice Too Small, a picture-book poetry anthology featuring fourteen young people making history.
Praise For…
---
A Bank Street College of Education Best Book of the Year

"Accessible prose and quotations from primary sources enrich this nonfiction photo-illustrated picture book, which recounts the American farmers' protests that took place in the 1970s and '80s. The volume has a visually institutional bent, but its coverage of lesser-known protests makes it a solid school or library resource. Back matter includes an author's note, a farm protest timeline, a table detailing U.S. farm prices through the years, and a list of sources." —Publishers Weekly

"A narrative nonfiction account of the American Agricultural Movement of the 1970s and 1980s, which uses sparse text and plenty of tractor photos. This is a well-researched look at the power of protest, the violence protesters sometimes endure at the hands of law enforcement, and the importance of community organization and activism." —School Library Journal

"The U.S. has a long history of using protest to fight injustice, and this photo-essay takes readers back to 1977, when farmers were going broke selling their crops for less than it cost to produce them. The text and photos [provide]...facts about this important but often overlooked moment in history." —Booklist

"This important book shows a different kind of labor struggle, one that can be easily overlooked because it revolves around a commodity that is often taken for granted. However, like the laborers in California and other areas who worked so hard for a living wage, the story of these farmers is one that needs to be told." —School Library Connection

"I loved the captioned photographs, and the succinct text on every page. Plenty of additional information including an author's note, statistics, a timeline and source notes. A fascinating look at a peaceful protest." —Kiss the Book