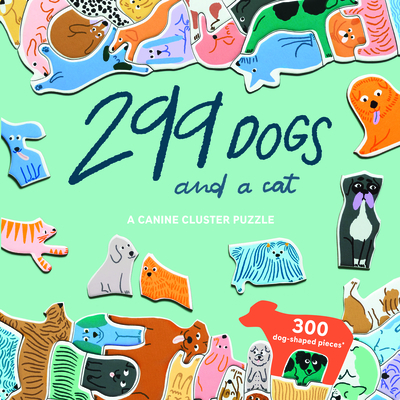 299 Dogs (and a Cat) 300 Piece Cluster Puzzle: A Canine Cluster Puzzle
Publication Date:
October 19th, 2021
Publisher:
Laurence King Publishing
Usually Ships in 1 to 5 Days
Description
In 299 Dogs (and a cat), a cunning cluster puzzle, there are no regular jigsaw shapes and a whole lot of canines! Have you got what it takes to assemble all 299 dogs into a perfect puzzle? A great game for avid puzzlers, families, kids and pet lovers alike - it will provide hours of fun!
The follow-up to 299 Cats (and a dog), (shortlisted for the 2021 Gift of The Year Awards!)
A JIGSAW WITH A TWIST: no two shapes are the same, and each piece is a dog (except for one that's a cat. See if you can find it!)
HOURS OF MADDENING FUN. Have you got what it takes to assemble all 299 dogs into a perfect puzzle?
CHARMING ILLUSTRATIONS by Léa Maupetit
STURDY & ATTRACTIVE BOX perfect for gifting and storage