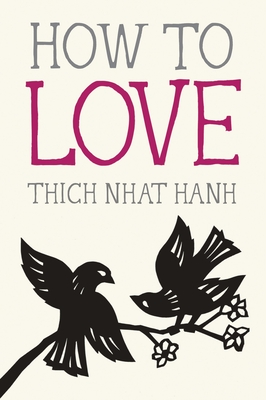 How to Love (Mindfulness Essentials #3)
Publication Date:
December 1st, 2014
Publisher:
Parallax Press
Usually Ships in 1 to 5 Days
Description
The most popular book in the "How To" series: advice, practices, and food for thought from a Zen Master on our most universal emotion. 
The third book in the bestselling Mindfulness Essentials series, a back-to-basics collection from world-renowned Zen Master Thich Nhat Hanh that introduces everyone to the essentials of mindfulness practice.
Nhat Hanh brings his signature clarity, compassion, and humor to the thorny question of how to love. He distills one of our strongest emotions down to four essentials: you can only love another when you feel true love for yourself; love is understanding; understanding brings compassion; deep listening and loving speech are key ways of showing our love.
Pocket-sized, with original two color illustrations by Jason DeAntonis, How to Love shows that when we feel closer to our loved ones, we are also more connected to the world as a whole. With sections on Love vs. Need, Being in Love, Reverence, Intimacy, Children and Family, Reconciling with Parents, and more, How to Love includes meditations you can do alone or with your partner to go deep inside and expand your own capacity to love.
Scientific studies indicate that meditation contributes tremendously to well-being, general health, and longevity. How to Love is a unique gift for those who want a comprehensive yet simple guide to understanding the many different kinds of love, along with meditative practices that can expand the understanding of and capacity for love, appropriate for those practicing in any spiritual tradition, whether seasoned practitioners or new to meditation.
Praise for How to Love (Mindfulness Essentials #3)
The Mindfulness Essentials have appeared on the NPR Bestseller list, the San Francisco Chronicle Bestseller list, the Boston Globe Bestseller list, the LA Times Bestseller List and the extended New York Times Bestseller List. 
"The monk who taught the world mindfulness."
—TIME
 
"Thich Nhat Hanh shows us the connection between personal inner peace and peace on earth."
—His Holiness the Dalai Lama
"Thich Nhat Hanh is a holy man, for he is humble and devout. He is a scholar of immense intellectual capacity. His ideas for peace, if applied, would build a monument to ecumenism, to world brotherhood, to humanity."
—Dr. Martin Luther King, Jr.