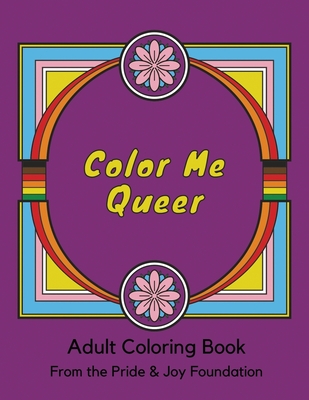 Color Me Queer: Adult Coloring Book from The Pride & Joy Foundation
Publication Date:
June 14th, 2022
Publisher:
Pride & Joy Press
Usually Ships in 1 to 5 Days
Description
LGBTQ+ INSPIRATIONAL QUOTES COLORING BOOK
Take a colorful journey through the 29 quotes and musings of some of our most loved and famed LGBTQ+ public figures. Remove your favorites by breaking along the perforated edge to enjoy inspirational words and your beautiful coloring each and every day. We hope this book reminds you of the strength, brilliance, and humor of our wonderful community
Why you Will LOVE This Book
- Inspirational Find a quote that you love and make it your own through coloring
- Quality Over 30 designs to color
- Single-sided pages Each image is placed on its own page with a blank page on the back to eliminate the problem of color bleeding through to another design
- Perforated Pages are perforated so that you can save your art or give to a friend
- White Paper Suitable for coloring pencils, coloring pastels, markers, gel pens, brush pens, crayons
- Perfect Size 8.5 x 11" format
Buy one for yourself or be an ally and give one to a friend
About The Pride & Joy Foundation
Pride & Joy's Foundation's mission is to reduce the rate of suicide and homelessness in the LGBTQ+ community by fostering allyship, advocacy, and creating opportunities to increase the visibility of LGBTQ+ people.
We envision a world where all LGBTQ+ humans are heard, housed, and mentally healthy.
To learn more about the foundation and how to support our mission, visit www.PrideandJoyFoundation.com.