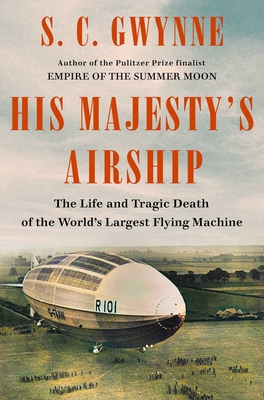 His Majesty's Airship: The Life and Tragic Death of the World's Largest Flying Machine
Publication Date:
May 2nd, 2023
Usually Ships in 1 to 5 Days
Description
From historian and bestselling author of the Pulitzer Prize finalist Empire of the Summer Moon comes a "captivating, thoroughly researched" (The New York Times Book Review) tale of the rise and fall of the world's largest airship—and the doomed love story between an ambitious British officer and a married Romanian princess at its heart.
The tragic fate of the British airship R101—which went down in a spectacular fireball in 1930, killing more people than died in the Hindenburg disaster seven years later—has been largely forgotten. In His Majesty's Airship, S.C. Gwynne resurrects it in vivid detail, telling the epic story of great ambition gone terribly wrong.
Airships, those airborne leviathans that occupied center stage in the world in the first half of the 20th century, were a symbol of the future. R101 was not just the largest aircraft ever to have flown and the product of the world's most advanced engineering—she was also the lynchpin of an imperial British scheme to link by air the far-flung areas of its empire, from Australia to India, South Africa, Canada, Egypt, and Singapore. No one had ever conceived of anything like this, and R101 captivated the world. There was just one problem: beyond the hype and technological wonders, these big, steel-framed, hydrogen-filled airships were a dangerously bad idea.
Gwynne's chronicle features a cast of remarkable—and tragically flawed—characters, including Lord Christopher Thomson, the man who dreamed up the Imperial Airship Scheme and then relentlessly pushed R101 to her destruction; Princess Marthe Bibesco, the celebrated writer and glamorous socialite with whom he had a long affair; and George Herbert Scott, a national hero who was the first person to cross the Atlantic twice in any aircraft, in 1919—eight years before Lindbergh's famous flight—but who devolved into drink and ruin. These historical figures—and the ship they built, flew, and crashed—come together in "a Promethean tale of unlimited ambitions and technical limitations, airy dreams and explosive endings" (The Wall Street Journal).
Praise for His Majesty's Airship: The Life and Tragic Death of the World's Largest Flying Machine
"A Promethean tale of unlimited ambitions and technical limitations, airy dreams and explosive endings." —Wall Street Journal
"[A] captivating, thoroughly researched book. Gwynne spins a rich tale of technology, daring, and folly that transcends its putative subject. . . . That the ending is no surprise takes nothing from the power of his story." —New York Times Book Review
 
"Utterly thrilling, the greatest tale of aerial hubris since Icarus." —Daily Express (UK)
"Gwynne brings this story alive with a sharp eye for detail, an engaging empathy for his characters, and a gift for storytelling second to none." —Air Mail
"I loved every page of this book. Even though we're aware of R101's tragic fate from the beginning, Gwynne still delivers an intensely dramatic story." —The Times (UK)
"A fascinating account of the bad decisions, distractions, naiveté, and sheer incompetence behind the crash of the massive British airship R101 in a field outside Beauvais, France, in October 1930. Meticulously researched and vibrantly written, this is an immersive and enlightening account of how hubris and impatience can lead to disaster." —Publishers Weekly (starred review)
"His Majesty's Airship reminds us how those magnificent men in their flying machines persisted, chasing a dream of a future—and a resurgent empire—that was never to be." —New York Sun
"In Gwynne's masterfully told tale, the characters behind the making of the prosaically named R101 are at least as vivid as the airship itself." —The Advocate
"An addictive account of the rise and disastrous fall of the R101 airship. Author S. C. Gwynne, no stranger to literary success, does a fine job in explaining the machine's lineage, capturing the spirit of the times and something of the never-say-die attitude that persisted. A compelling read." —FlyPast Magazine
"The tragic story of the British airship R101—which went down in a spectacular hydrogen-fueled fireball in 1930, killing more people than died in the Hindenburg disaster seven years later—has been largely forgotten. In His Majesty's Airship, historian S.C. Gwynne resurrects it in vivid detail, telling the epic story of great ambition gone terribly wrong." —Skybrief
"Not to be missed. . . . S.C. Gwynne is a consummate storyteller." —BookPage
"Gwynne thrillingly and meticulously documents [how] the building of R101 and the entire journey were doomed by bad decisions, inflated egos, faulty technology, and bad luck." —Stuck At the Airport
 
"Gripping." —Unseen Histories
"A sturdy, well-paced contribution to aviation history." —Kirkus
"Gwynne meticulously recounts the final flight of the British airship R101 and the entire zeppelin era in this engaging history. There is plenty of international zeppelin history here, but it is the personal conflicts in the R101 control room, exacerbated by Scott's spiraling problem with alcoholism, the social context, and the near minute-by-minute presentation of the tragic flight that will capture reader attention." —Booklist
 
"One of the most fascinating and interesting books I have read about airships. . . . Gwynne is certainly a very good storyteller!" —Aviation Book Review
 
"A great book. Highly recommended." —Compulsive Reader
"I've just closed this book and this is the feeling—I'm standing inside the massive airship, a whale in the air, on its aluminum 'ribs,' looking far up into the belly as ten-story tall gas bags shift and pulse like creatures in a fable. . . . Gwynne's meticulous reporting and the sweet rise and fall of his prose are a mirror to our own foibles, desires, dreams." —Doug Stanton, #1 New York Times bestselling author of Horse Soldiers
"Aviation history is nothing less than miraculous; it took a mere sixty-three years, after all, to get from the Wright brothers to Neil Armstrong. Barely a century ago, however, our skies were filled with a bounty of gliders, biplanes, and flying boats; balloons, blimps, and zeppelins. With His Majesty's Airship, the inimitable Mr. Gwynne explores in vivid detail how this dream bloomed, and how it, in time, fell tragically to earth. He has written both a remarkable history and an eye-opening revelation of technology's recurrent phantasms." —Craig Nelson, award-winning author of Pearl Harbor and Rocket Men
 
"An enthralling study of the airship era that has the reader hooked from page one. Courage, hubris, ingenuity and a shocking disregard for safety are all bound up with fading empire and one man's dreams." —Julia Boyd, author of A Village in the Third Reich